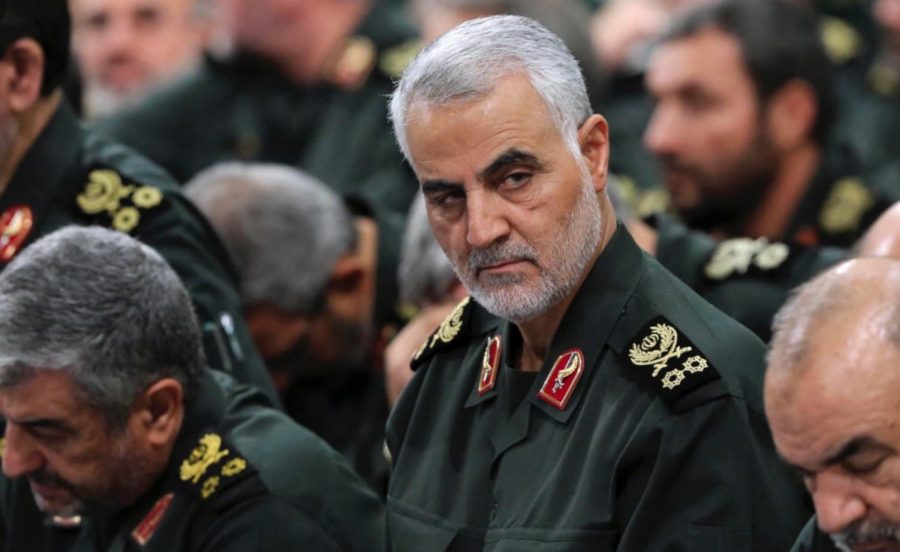 Qasem Soleimani, an Iranian Major General in the Islamic Revolutionary Guard Corps, was killed in a US airstrike at Baghdad International Airport on Jan. 3 local time, giving way to increased political and military tensions between the US and Iran.
In an immediate statement released on Jan. 2, the US Dept. of Defense justified the attack on Soleimani, stating that he "was actively developing plans to attack American diplomats and service members in Iraq and throughout the region," 
Pres. Trump also said that Gen. Soleimani was "plotting to kill" many Americans and that he was "directly and indirectly responsible for the death of millions of people".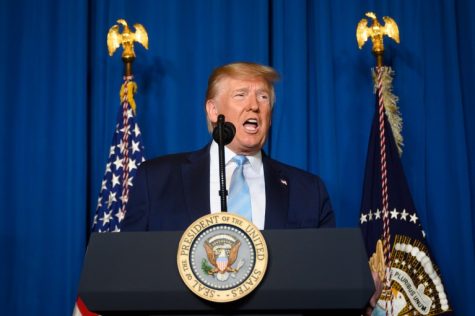 Chairman of the Joint Chiefs of Staff General Mark Milley said that intelligence files showed that Gen. Soleimani had been plotting against the United States: "I'll stand by the intelligence I saw that was compelling, it was imminent, and it was very, very clear in scale, scope."
In a somewhat delayed response to Soleimani's death, Iran retaliated in an attack on two Iraqi military bases hosting US troops. Both the Ain Al Assad and Erbil bases were targeted on Jan. 8 local time, but no immediate casualties were reported.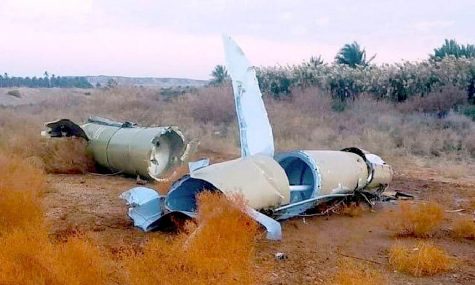 Pres. Trump and the Trump Administration continued to defend the strike that killed Solemani as self-defense, and attempted to ease the panic that arose in response to the attacks on the Iraqi air bases in a tweet. Following an initial statement— "All is well"— Trump proceeded to emphasize the US' military strength, suggesting that the tensions with Iran will continue.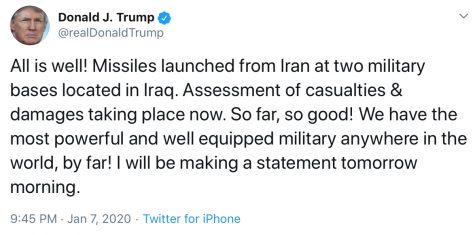 Brig. Gen. Amir Ali Hajizadeh, the head of the Revolutionary Guard's Aerospace Force, appeared to have tried to distance Iran from any further conflict with the US. "We did not intend to kill," Ali Hajizadeh said. "We intended to hit the enemy's military machinery."
However, destroying the initial relief that permeated through the US populace upon learning that nobody was harmed in the two strikes, Iran struck another Iraqi military base on Jan. 12, this time wounding four Iraqi soldiers just days after the first set of attacks on Jan. 8. Located in northern Iraq, Balad airbase also housed US troops, but most of the Americans stationed there had already been re-stationed amid rising tensions between the US and Iran in the Middle East.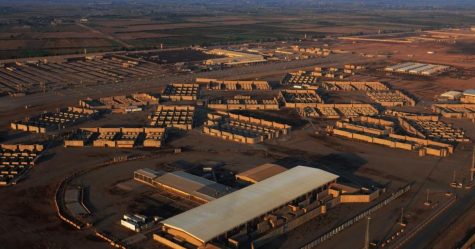 US Secretary of State Mike Pompeo said that he was "outraged by reports of another rocket attack on an Iraqi airbase." 
Iran has yet to speak publicly regarding the strike on Balad airbase.