Everything You Need to Know About the New English 12 Courses
The senior year English choices are undergoing a shake-up after courses were added to the English 12 offerings.
Great Neck North High School has opted to add four college-style half-year English courses to its offerings for the 2020-2021 school year. This introduction will be the biggest change to the 12th grade English course offerings since the addition of senior seminars. 
One course, "Myths and Legends from Homer to Harry Potter" explores the importance of myth and legend, which will incorporate discussion regarding creation myths from a variety of cultures.  Another, "Detective, Mystery, and True Crime," delves into the key attributes of detective or mystery fiction and examines works in the genre to give students a greater understanding of characterization, plotting, tension building, and more.
The third offering, "Dystopian Literature and The Quest for a Perfect World," focuses on topics such as surveillance, mob mentality, social equality, government control, and reliance on technology while engaging students through short stories, poems, and novels.  Last but not least, "Literature of New York" looks at the work of authors who grew up in the city as well as foreigners' perspectives of New York.
These new courses were added to better connect students' interests to their English courses and better prepare students for the college-level classes they will be taking once graduating. 
A sophomore in English Honors, Maya Slobin, likes the new opportunities. "I think these classes are really important because they offer opportunities for seniors to pursue classes they have more of an interest in" Slobin said.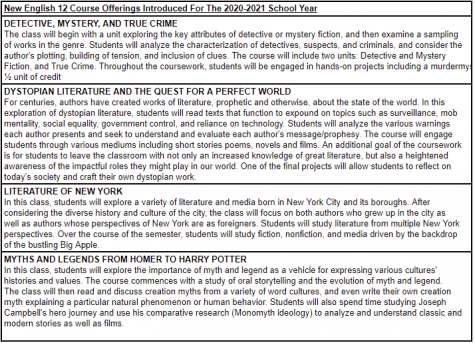 Another student, Charlotte Hakimian, a junior, also believes the addition is positive overall. "I'm not interested in those so it doesn't really affect me," Hakimian said. "But I think it's a good idea for people who want to branch out."
Similar course offerings have already been available for rising seniors at Great Neck South High School for some time, suggesting that the courses were and continue to be successful in piquing students' interest.
Mrs. Behar, an English teacher, believes the new seminar gives seniors a great experience that differs from their previous three years at North. "Designed to attract students based on interest, each new senior course focuses on a larger picture through literature and other medium" Behar said.
Other than the new courses, Graphic Lit, SATIS, and Citizens of the World, and AP English Literature will still be offered. 
About the Writer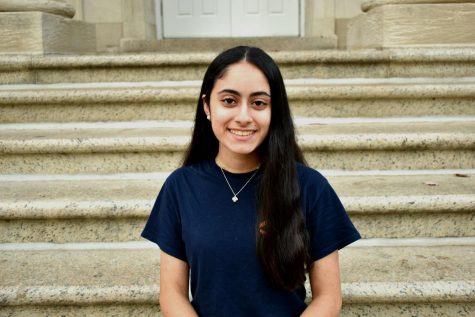 Shayla Bakhshi, Managing Editor
Shayla Bakhshi is one of Guide Post's managing editors. She also cheers on the GNN team, and leads the JV team as captain. In addition, Shayla is an...