Three Seniors Commit to Play Division I Sports
After committing to some of the nation's top universities, Zoe Le, Lily Becker and Julia Zalta provide insight into each of their athletic journeys.
From late-night practices to early morning games, student-athletes dedicate a large portion of their lives to their respective sports. With sports in high school already being both time-consuming and physically rigorous, college athletes experience many of these same demands on an even greater scale. 
Three Great Neck North seniors have recently accepted the challenge of pursuing Division I athletics in college. After committing to some of the nation's top universities, Zoe Le, Lily Becker and Julia Zalta expressed their excitement for the next four years and provided insight into each of their athletic journeys.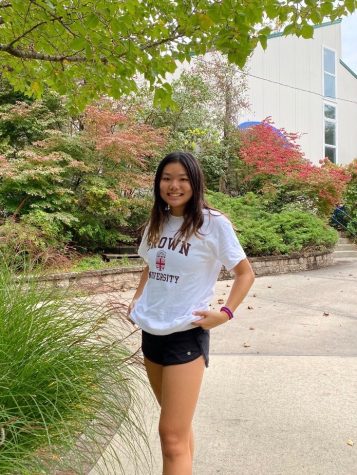 Senior Zoe Le committed to Brown University to pursue swimming and diving on the collegiate level. A three-time county champion and state competitor, Le is not only a decorated athlete but an extremely passionate diver.
"I love going to practice," Le said. "[Diving] is something I'm very dedicated to, and having an extracurricular you enjoy is very rewarding. I just want to be able to continue diving competitively even after I graduate high school."
For Le, Brown provided a perfect opportunity to pursue both athletics and academics because of the positive team atmosphere as well as the school's academic programs. "I don't know exactly what field I want to study, but the open curriculum [at Brown] gives more freedom for students to choose their own course of study instead of strictly studying one major."
Though she expressed her joy upon committing to Brown, Le explained that the college recruiting process was intimidating. "When I first started talking to coaches, it was a bit stressful because I wasn't sure which coaches were interested in me," Le said. "Even after they're interested, I had to make sure I kept my grades up."
Despite her initial uncertainty regarding the recruiting process, Le's doubts quickly disappeared after Brown presented itself as an option. "It was really exciting when I got offered a spot at Brown because I loved the academic programs and the team and knew I wanted to study there," Le said.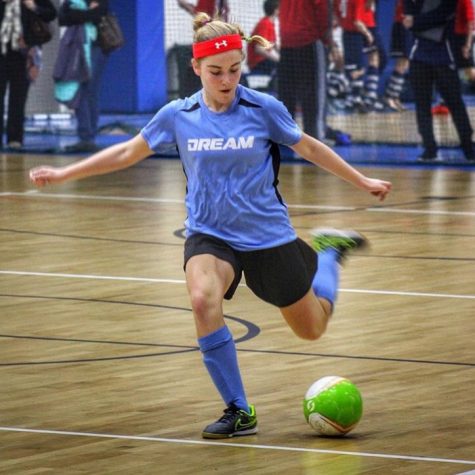 Lily Becker, another senior at North High, committed to American University to play Division I soccer this past fall. 
Becker ultimately ended up choosing AU because of its stellar athletic and academic programs, as well as its pristine location: Washington D.C. Like Le, Becker has dedicated a huge portion of her life to soccer. "When I was around 10, I stopped playing other sports and dedicated myself to soccer," Becker said. "I trained 6-7 days a week, multiple hours a day."
Additionally, Becker described how her many experiences as a player helped to prepare her for the rigor of Division I sports. Apart from being a three-time US Youth Futsal National Champion, and a Futsal International Champion, Becker also plays for the North Carolina Courage women's soccer team. Coached by Paul Riley, it is one of the nation's top professional teams, and Becker explained that learning from Riley's expertise was a very important step in her athletic journey.
Becker also played on a club team for two years and revealed that many of her teammates helped her navigate through the college recruitment process. "I was able to see a lot of my teammates go through the recruiting process before me and was able to find out a lot of information from them," she said.
Though the process was stressful at times, Becker enjoyed exploring different programs to figure out exactly what she wanted. "When I spoke to American University for the first time, I felt an instant connection with the coaches and the culture they desire for the program at AU," Becker said. 
Pursuing a collegiate athletics career is, by no means, an easy task. But for Becker, playing soccer is more than just a hobby. "Soccer is truly my passion," she said. "Every day, I wake up looking forward to playing the game and working towards my goals."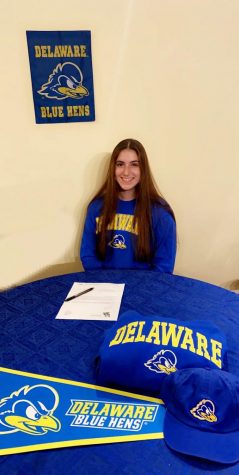 Senior Julia Zalta recently announced her commitment to the University of Delaware for volleyball. "I was extremely humbled and could barely even clap for myself," Zalta said. "It was something I knew I had wanted to accomplish for years but had a lot of self-doubt along the way."
Zalta started playing volleyball in 5th grade, but things started getting serious for her when she joined a highly competitive travel team as a sophomore. Since then, Zalta has proved herself to be a talented athlete. Some of her accomplishments include winning a regional championship in 2019 and competing for the regional high-performance team in the summer of 2019, for which she traveled to Florida to play against other teams from around the world. 
"I've learned about my own strengths and weaknesses and how to counteract them with wins and losses," Zalta said, describing the impact that volleyball has had on her development. "I've gained so much experience from international coaches and new teammates yearly who have taught me life lessons in development and growth."
Despite her many successes, Zalta was open about the struggles that she experienced when applying to colleges. "In ninth grade, I would spend hours compiling film and emailing and visiting schools and coaches just to be shut down," she explained. "In 10th grade, I completely changed my position on the court and had to start all over with introducing myself in a new light." 
When she was first contacted by the University of Delaware, Zalta had doubts about her recruitment. "In January of 2020, I attended a prospect camp as nervous as can be. I thought for sure my opportunity was over; that I must've not played my best."
In Zalta's case, persistence was the key to her success. "I kept emailing and texting because giving up was not an option," Zalta said. "After zooming multiple times with my own coaches and my potential new ones and my parents on board, an offer was placed on the table."
With the stress of recruitment behind her, Zalta has had more time to celebrate her accomplishment. She touched upon her excitement regarding the four years that lie ahead of her. "I look forward to the friendships I'll make and living my life to the fullest in one of the most unique places I've ever visited," Zalta said.
Leave a Comment
About the Contributors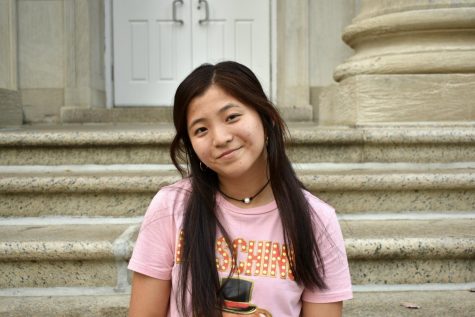 Samantha Wo, Senior Managing Editor
Samantha Wo is one of Guide Post's senior managing editors. She enjoys online shopping, watching Netflix, reselling shoes and streetwear, playing guitar,...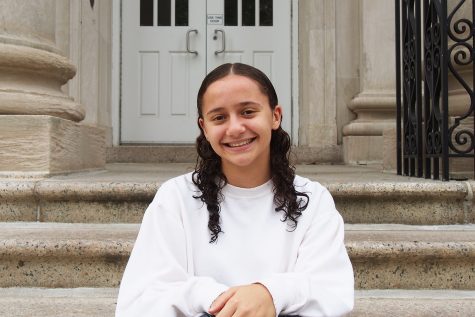 Natasha Khazzam, Managing Editor
Natasha Khazzam is one of Guide Post's managing editors. She enjoys art, foreign languages, and writing, and is an active member of numerous clubs such...