Meet Your Teachers' Pets
Animals make great companions, especially while we are spending more time at home during the pandemic. With dogs, cats and even snakes, meet some of your teachers' beloved pets.
Mrs. York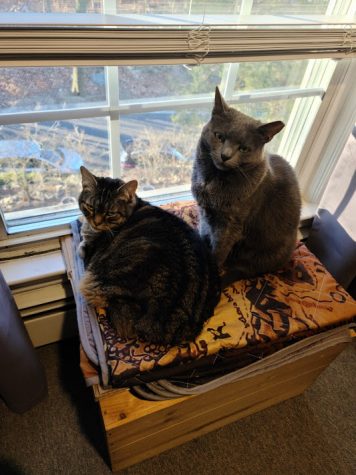 First up, meet Mrs. York's 8-year-old American Domestic Shorthairs: Marbles and Smokey.
These two troublemakers are often found basking in the sunlight of Mrs. York's front window. But when they're not sunbathing, the sisters are often chasing each other around the house. Marbles often attempts to hide in her box fort but is quickly stopped when Smokey ambushes her. 
Since Mrs. York typically leaves for school at 6:30 a.m. and returns home at 4 p.m., cats were the best choice for pets for her. Her cats keep each other company and don't mind waiting for Mrs. York all day. But during the beginning of lockdown, the cats were given as much attention as they possibly could want—and they loved it. 
Mrs. DeLuccia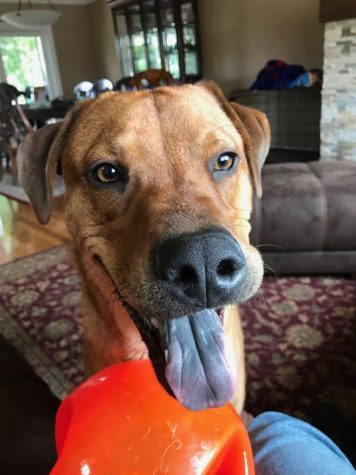 Second, we have Mrs. DeLuccia's 5-year-old dog Sammy, a "mutt-igree" Shepherd and Rhodesian Ridgeback mix. 
Sammy's a soft giant. Even though he's an 85-pound dog, he is deathly afraid of the laundry basket. In addition to his human-like size, Sammy also snores and talks like a human. When Mrs. DeLuccia is trying to teach from home, Sammy speaks to her in a combination of yawning and growling to gain Mrs. DeLuccia's attention. 
Mrs. DeLuccia adopted Sammy from the North Shore Animal League, and the story of how the two found each other is quite sweet.
"When we walked into the shelter, the dog in the pen right next to Sammy was barking like mad," Mrs. DeLuccia said. "I saw his face. He put his head in my hands and said, 'Take me home, this dog is so loud!'"
Ms. Ostrover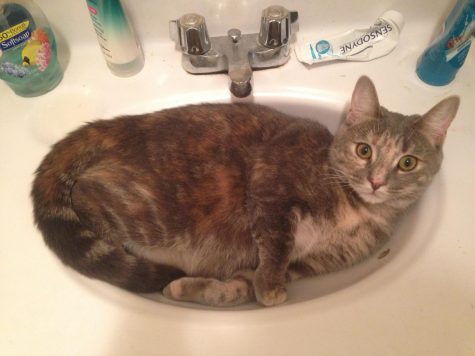 Next, meet Ms. Ostrover's cat Boleyn and snake Lucia.
Boleyn is Ms. Ostrover's cuddle buddy during the pandemic when she couldn't leave the house for a while. But having a cat lying on your stomach is a bit of a struggle sometimes.
"My cat Boleyn is about 7 years old and fat as a toddler," Ms. Ostrover said.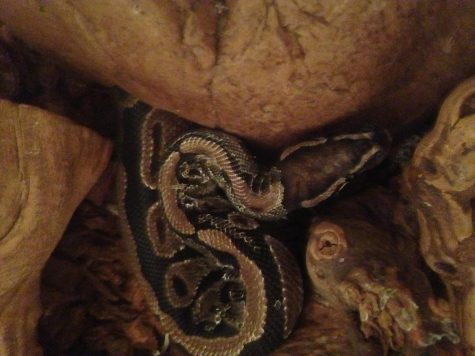 Having a snake as a pet is an eye-catcher, and Ms. Ostrover knows it. One of her favorite things to do with Lucia is to go on the subway and make other passengers panic at the sight of a snake. 
Lucia, surprisingly, is a very picky eater and will only eat live mice. Even moving dead mice and playing the sounds of mice won't trick her. She knows what she wants.
Mrs. Talamo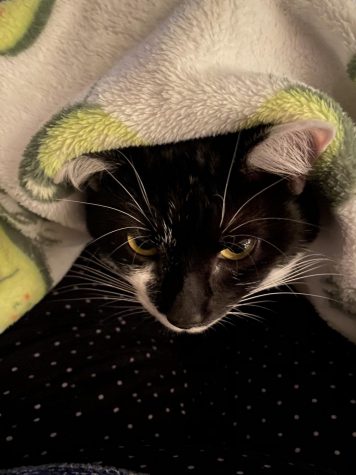 Like Mrs. York and Ms. Ostrover, Mrs. Talamo is also a cat lover with her three cats: Graycie, Harper and Scout. 
These three cats are Mrs. Talamo's mini-humans. They are very well-trained to come into the kitchen in the morning and in the evening before bed to get their treats. They are also excellent students who attend—or jump—into all of Mrs. Talamo's classes. 
Especially in times of distress and chaos like now, Mrs. Talamo said, "I feel that they [the cats] bring happiness and calm to me and my family."
Mr. Corrao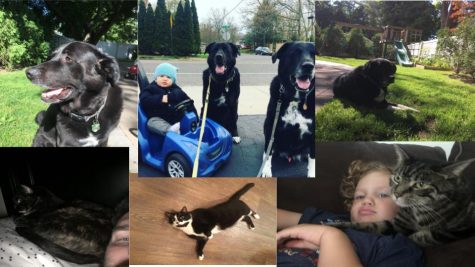 Last but certainly not least is the Corrao family and their grand total of seven pets: two dogs—Mason and Dixon—and five cats—Thor, Lily, Stella, Buca and Carmen. 
Mr. Corrao's dogs were adopted from a shelter in Tennessee while the cats were adopted from different shelters across Long Island. The dogs are full of talents. They will both bow on command, and one of them will stand up on his hind legs and dance. 
Living with two dogs has definitely rubbed off on the cats. They all especially enjoy sleeping in beds, and some of the cats even enjoy playing fetch.
During the pandemic, the Corraos have spent a lot of time with their dogs. They often walked their dogs twice a day to get some fresh air during the early days of lockdown. 
Although the pandemic has had many adverse effects on our daily lives, there's always a silver lining. Staying at home more gives us the opportunity to make more memories and spend more time with our furry companions, who never fail to make us feel just a little less stressed and lonely.
Leave a Comment
About the Contributor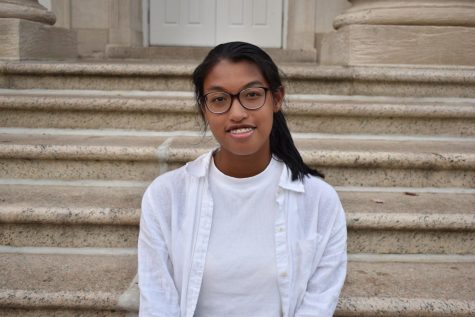 May Tun, Managing Editor
May Tun is one of Guide Post's managing editors. She plays Goalie for the girls varsity soccer team. She's also in Key Club, and she really enjoys bullet...