Story Behind the Shots: Take A Walk Through The City With Odelia Siouni
Odelia Sioni, passionate about both photography and videography, gives an exclusive behind the scenes look at some of her favorite posts.
City Stroll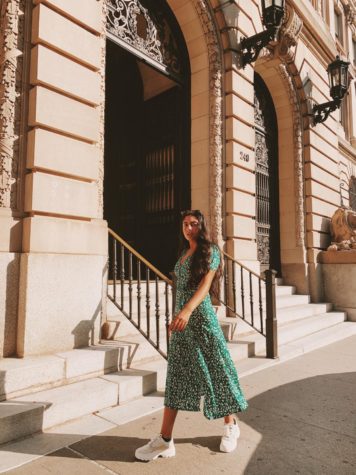 This photo was taken after coming out of quarantine. Odelia longed to go to the city during the entire duration of her time spent home. Accompanied by her older sister, Kayla, Odelia went to brunch, spent time shopping and took many pictures. This was her favorite picture, out of the numerous shots taken, reminding her of how much she adored the city. She took safety precautions as required, only taking off her mask to capture this very artsy photo. 
"There are so many memories tied to this picture," junior Odelia Siouni said. "After this day, my sister and I only got closer and continued to go on adventurous trips to the city before she moved to Israel for school."
A Messy Masterpiece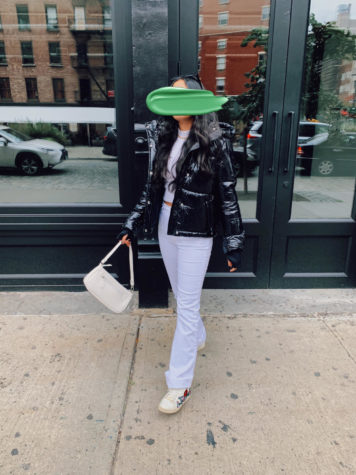 This photo chronicles one of Odelia's exciting trips to the city with Kayla. When taking this photo, a father and son were driving and stopped at a stop sign. They proceeded to ask Odelia if she was a celebrity, calling out in amusement from the effort dedicated to take the photo. A green paint mark was later added to the photo to mask any redness from Odelia's face after laughing with strangers for their remark. 
"Even though it was months ago, I always remember this moment when taking pictures in public," Siouni said. "Both the father and son had a great impact on my day, it was different from the usual comments I receive over social media." 
Glacé and Graffiti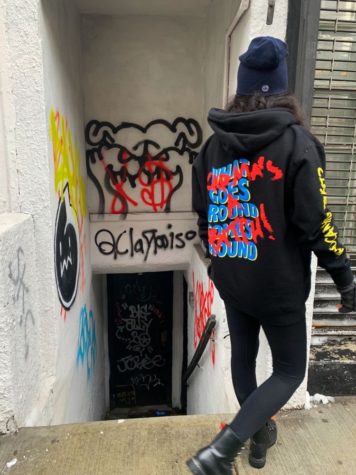 Upon seeing the graffiti on the street, Odelia knew she had to stop and take pictures. She was on her way to Ladurée, a french cafe in New York City, when the waitress told her to go around the block to the back entrance so she could be seated outdoors. On her way, she passed by this eye catching art on the walls. 
"In the midst of the bland side street of Manhattan, this corner caught my eye," Siouni said. "I thought it definitely matched my aesthetic, as my hoodie was also graffiti themed."
In the end, she got to the café twenty minutes later because she was caught up in her hobby of photography.
A Change in Views
Odelia loves to express her creativity through spending time to plan, film and edit videos to upload onto social media platforms. This specific video is meant to capture the feeling Odelia gets when going to the city. On the day of filming, Odelia even brought a backpack filled with clothes for an outfit change. 
"Out of any video I have ever created, this is my favorite," Siouni said. "My usual goal when making videos is to show others what I see. This is a great example of how I view the city because while others see the city as dirty and polluted, I see the city as a lively, colorful place. In the video I chose to wear a funky dress because I feel like my most confident self when being in the city."
Odelia loves museums and thought the scenery was the perfect place to start filming. She spent around two hours jumping around from one exhibit to the next. In the video, Sioni starts her day at the MET, and ends up in Times Square. 
"I feel as though museums, such as the MET, have a serious vibe circulating the premises, but when I go there I get a fun, energetic feel," Siouni said. "What I love about editing is that I get to incorporate a different lens to my viewers."
After the museum, Odelia made a quick outfit change and headed to a pizza place in a lively dress.
"I definitely got many stares, but I honestly did not mind it," Siouni said. "In the city, there is always so much going on so I knew that people would either forget about me soon or consider it part of the norm."
Next, Odelia strolls through central park, taking in breathtaking views as leaves turn orange and falling all around her. Her next shot pans to Times Square. Although Odelia is not very fond of the notorious Times Square, she took this as an opportunity to shift her perspective. Using her hobby of videography to capture Times Square, Odelia was able to paint a new field of vision in her mind, as she wishes her viewers would do when coming across her videos. 
"All too soon, the day became dark and it was time to go home, but the journey was not over," Siouni said. "It was time for my favorite part of watching over all the clips and putting it all together in a video."
Leave a Comment
About the Contributor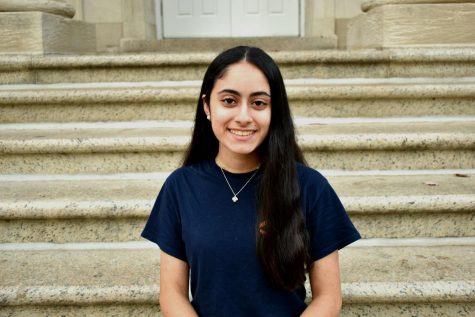 Shayla Bakhshi, Managing Editor
Shayla Bakhshi is one of Guide Post's managing editors. She also cheers on the GNN team, and leads the JV team as captain. In addition, Shayla is an...