The 2021 Governors Ball: A Recap
Last weekend, over 150,000 people had the time of their lives. Dressed in vibrant outfits and surrounded by a vast selection of foods, they waited in anticipation as their favorite music artists took the stage at the Governors Ball Music Festival.
From September  24- 26, Queens' Citi Field highlighted artists including Billie Eilish, A$AP Rocky, J Balvin and Post Malone. The four main stages featured over 70 different performers throughout the duration of the festival. Traditionally rich cultural experiences, music festivals are meant to encompass a wide variety of artistic styles and forms of expression–and the Governors Ball did exactly that.
Music:
Billie Eilish opened for the festival on Friday, September 24th. A$AP Rocky and J Balvin were headliners on  Saturday the 25th, while Post Malone closed out the festival on Sunday, September 26th.
Post Malone played his top hits during the Ball's final set, including "Circles," "Better Now" and "Psycho." During his performance, he brought 21 Savage and Roddy Ricch on stage to sing with him, which prompted an overwhelming reaction from excited fans who beamed with excitement.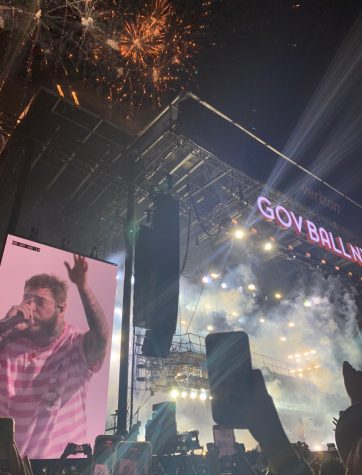 Sam Kashipour, a junior, reflected on his experience at the show. "Post Malone had a lot of my favorite music. He performed amazingly and performed with all of his heart," Kashipour said. "He was very genuine about his music and thanked the fans many times for supporting him. He tried his hardest to make sure that his fans were happy and excited about the music."
Emma Sadon, a junior who attended all three days of the festival, said that she enjoyed Sunday's lineup the most, as 21 Savage was her favorite performance of the weekend. "First of all, the guys that were there were absolutely nuts when he finally came on," Sadon exclaimed. "Second, at his concert, there was a mosh pit and everyone pushed each other to create a hole in the crowd, and when the beat dropped they pulled everyone in."
Fashion:
The post-show fireworks weren't the only expressive show of color and imagination at "Gov. Ball." The styles in the crowd were as much a part of the festival as was the music.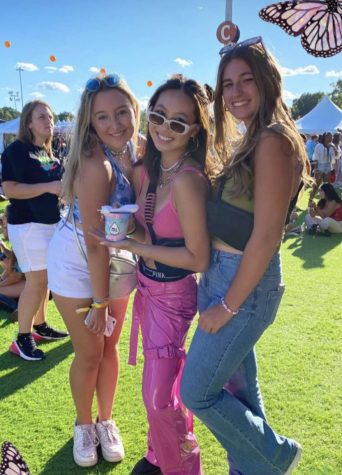 "I really enjoyed that everyone was super creative with their outfits because it was so much fun to see what people would come up with," junior Linda Li said.
Vicky Sakhai, a junior, explained that she and her friends took their accessorizing abilities to the "next level". They stacked their arms with homemade bracelets and  Governor's Ball entry wristbands–a fitting souvenir to the festival.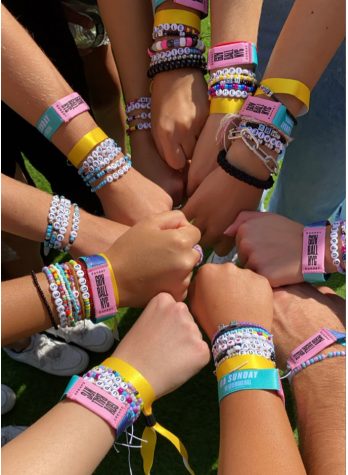 Cuisine:
Along with the promise of good music, the developers of the Governors Ball provided a vast variety of food. Options included pizza, baked mac-and-cheese, french fries, burritos, ice cream, donuts and so much more. he food stands in attendance  included Milk & Cream, Roberta's Pizza, Walter's Hot Dogs, Wowfulls, Big Mozz, and Nachos Libre. Sophie Frenkel, a junior, explained that the cheese fries were her favorite. "They were really crispy and the sauce was very good," she said.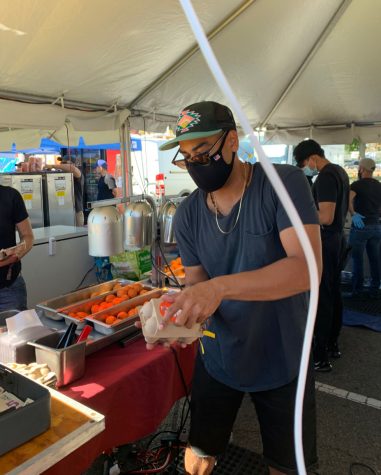 In short, The Governors Ball was exciting and enjoyable with regard to a multitude of categories. However, is also an annual event—so if you happen to have missed it, be sure to keep an eye out for next year's tickets!
Leave a Comment
About the Contributor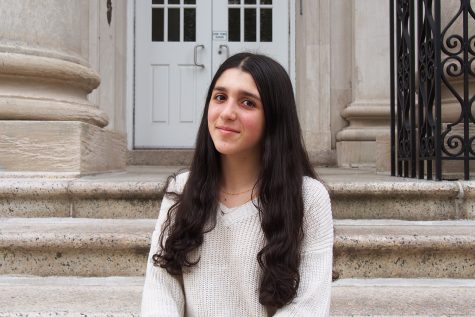 Amanda Lavian, Associate Editor
Amanda Lavian is one of Guide Post's associate editors. She runs with Great Neck North's cross country and track teams. She also enjoys playing softball...