A Tribute To Troops
North High's Aid Our Troops Club organized a heartwarming and successful event for the admirable Sgt. Poons.
US troops enter the battlefield with fortitude, as they risk their lives to defend American interests. These efforts are hardly ever recognized by American citizens, as we only have two holidays dedicated to honoring our troops. Students at North High took matters into their own hands and planned a successful event.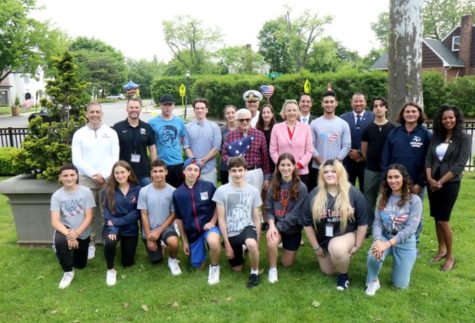 On Friday, May 27th, North High's Aid Our Troops Club hosted a ceremony in front of the school honoring military veteran and North High graduate, Sergeant Ronald Poons for his service to our country and his devotion to the Great Neck community. 
Sgt. Poons, a lifelong Great Neck resident, graduated from North High as a member of the class of '59. In 1963, Poons enlisted himself in the military and attended Fort Jackson for advanced training. He was assigned to the 11th Special Forces Airborne Group, an army reserve group also known as the Green Berets. Following his release from the army, he continued to serve our community as a firefighter for the Alert Fire Company and eventually became chief.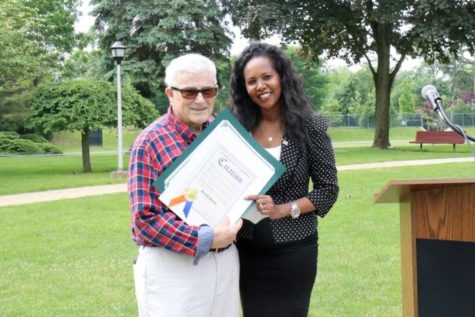 The Aid Our Troops Club presented Sgt. Poons with an American flag that was flown over the US Capitol building in celebration of his service to this nation and his exceptional performance in the fire department. Throughout his career in the Fire Department, he sustained many injuries and burns, but not enough to limit his aspirations of serving the community. In his speech, he stressed the importance of public service. "The best way you can help is to support the community" he expressed.
Prominent local lawmakers Anna Kaplan, Mazi Pilip, and Veronica Lurvey attended the ceremony and awarded Sgt. Poons with proclamations of recognition from the state and local bureaucracies. Officials from Alert Fire Department and the Merchant Marine Academy also attended the event to show their support.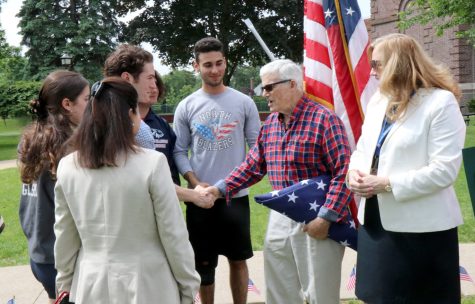 The Aid Our Troops Club and administration played a critical role in organizing this event. The faculty advisor for the club, Mr. Caesar, shared his thoughts on the outcome of the ceremony.
"Everyone appreciated what it represented, soldiers, troops dying for their freedom . . . I was really impressed by the students; they showed an appropriate level of respect for Mr. Poons and what he's done for the community. I cannot explain how proud I am of the club for what they've done to organize this event" Mr. Caesar explained. 
Mr. Poons plays a fundamental role in our community and embodies strength and bravery, as he served our community for decades. His selflessness will have an ever-lasting impact on the Great Neck community. The Aid Our Troops Club looks to hold another ceremony honoring another gifted individual next school year, just prior to Veterans Day.
Leave a Comment