App Request Form
Hang on for a minute...we're trying to find some more stories you might like.
Great Neck North students have been complaining about not having the App Store on school iPads ever since App Store access was first restricted two years ago.
However, students have been presented with a solution: the App Request Form. Through this form, students can request to have apps added to the App Catalog in which students can then download these apps onto their school iPads.
Student Organization President Yoel Hawa has been working on creating a way for students to have more freedom with the apps they can download ever since his campaign for S.O. office.
"I initially started trying to get the App Store back, but then I realized the many reasons why we can't have it back—part of it technical reasons, part of it logistically," Hawa said. "I was working with the Technology Committee and administration, and we came up with this compromise as a way for students to have more control over the apps they get without needing to bring back the full App Store."
If you're a student who has been waiting to download your favorite games on your iPad, don't get your hopes up just yet. Apps that students request must meet certain requirements before they can be accepted and added to the App Catalog.
The guidelines for app approval, which can be found on the App Request Form, outline five requirements that have been agreed upon by the Student Organization, the Technology Committee, and administration.
The guidelines require that apps serve a school-related educational or productivity purpose, do not create a classroom distraction, and do not present a network security risk.
It took several months of work and communication before the App Request Form was finally ready for students to submit requests.
"I would go and meet with the technology committee, and it just kept going back and forth: meeting with them, sending emails back and forth, and fine-tuning it a bit," Hawa said.
Originally, app requests were accepted on paper forms that could be found in the school library.
However, the online form has introduced improvements to the app request process and has proven to be more effective than the paper requests. Since the announcement of the online App Request Form, students have made many app requests.
"Most of the requests were people using it very legitimately, so I'm very happy with that because with the paper requests, people would do it as a joke sometimes," Hawa said. "Having this transparency of what is and what isn't allowed on the form definitely helps people make better requests."
Although Hawa has done a lot to create the App Request Form, he credits administration and the Technology Committee for making the process easier.
"Other than the initial difficulty when I found out that we can't bring back the full app store—that was a little disappointing—[the process] has been pretty easy because everyone in administration, all the teachers, and the whole committee were very on-board with this idea."
The App Request Form has overall made it much easier for students to get the apps they want while also preventing apps from becoming a classroom distraction.
"I'm very proud to see how this school has taken this idea and really made the most of it," Hawa said. "I'm really happy with this accomplishment."
Want to make an app request? Visit the App Request Form here.
About the Writer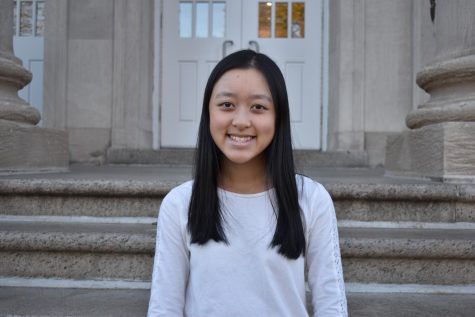 Lauren Yu, Managing Editor
Lauren Yu is a managing editor for Guide Post Online. Outside of Guide Post, she is passionate about science and art. She is also the vice president of...