Meet the Valedictorian and Salutatorian of the Class of 2020
Raymond Lin and Judah Nouriyelian have been named North High's Class of 2020 valedictorian and salutatorian, respectively.
Each year, the valedictorian and salutatorian titles are awarded to the students with the highest and second highest grade-point averages, in the senior class. This year's valedictorian and salutatorian were revealed via an announcement from Dr. Holtzman over the loudspeaker during the school day.
"The announcement caught me a bit off guard," Lin said. "I had a feeling something was weird as soon as Dr. Holtzman came to my English class to get me and Judah, but it wasn't really on my mind. I was kind of running low on sleep that day so it definitely took me a bit too long to think through it. Even after, it's still kind of surreal."
Nouriyelian, who was sitting in the same class as Lin, was less surprised by the announcement.
"My reaction was pretty tame," Nouriyelian said. "It was kind of obvious when Holtzman dragged me out of class. I kind of knew because my mom was being a little sus about it."
Lin and Nouriyelian have been in many of the same classes throughout high school and acknowledge that at times—especially earlier on in high school—there has been some competition between them. Despite the occasional competition, they have become close friends.
"We've been pretty good friends since at least sophomore year since we took a lot of the same classes," Lin said. "Plus, he's hilarious, so he's fun to be around."
"He has generally been one of my main partners for assignments," Nouriyelian said. "He's my boy now. We also have very interesting Snapchats to each other."
Raymond Lin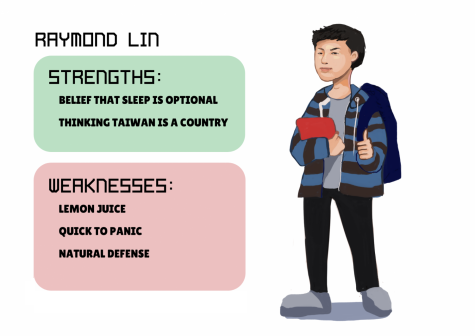 Valedictorian Raymond Lin is a National Merit Finalist and editor-in-chief of Guide Post Online. Passionate about science and involved in science research, Lin participates in clubs such as Science Olympiad, Bioethics Club and Pre-Med Club. Outside of academics, Lin is also a varsity badminton player and avid video game player.
"I play a ton of video games, like almost to a concerning degree," Lin said. "Games are usually what I go to for stress relief."
Like most high school students, Lin struggled a bit to find a manageable balance between schoolwork and other activities.
"It was definitely difficult to manage the schoolwork and find time for other things, like sleep," said Lin, who sometimes only sleeps for an hour. "I'm currently in the process of rebuilding a sleep schedule, so I'm still kind of trying to find a balance even now."
Despite his overall success in high school, Lin recalls struggling to find his footing in freshman year.
"Freshman year was definitely the worst, probably partially because of course load and partially because high school has a bit of a scary learning curve, which is kind of rough at the start," Lin said. "At least that gives a bit of hope to the freshmen because things get better, classes get more fun."
Despite the difficulties that freshmen may face, Lin advises underclassmen to stress less.
"As for advice to the underclassmen, I'd probably say to just take some time to breathe for a second," Lin said. "If I could change something, I'd probably get my younger self to learn how to stop panicking. Also, I'd probably tell him to go to House of Subs with the other guys some more."
Judah Nouriyelian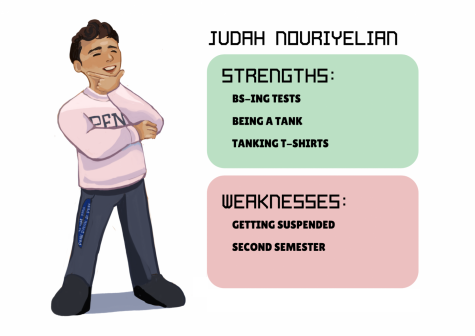 Salutatorian Judah Nouriyelian, who will be attending University of Pennsylvania in the fall, holds leadership positions in Math Team, Quiz Bowl and Model Congress. He is also co-captain of the varsity wrestling team.
"Recently I've been trying to get into chess, but right now I kind of suck at it," Nouriyelian said. "Generally, I just spend my time talking to people, going on Reddit or YouTube and eating mad amounts of Amal."
Struggling to balance schoolwork and other activities for a portion of high school, Nouriyelian frequently resorted to procrastination.
"My solution was a lot of times to procrastinate the schoolwork and then pull a ton of all-nighters, and it really did work looking back on it," Nouriyelian said. "I would feel like death the next day, but I started writing every single English essay of my high school career the night before it was due, and I think I put out some quality work. But I don't think this works for everyone."
Like Lin, Nouriyelian recalled freshman year being a relatively difficult school year.
"Freshman year was definitely my worst," Nouriyelian said. "The further I got into high school and the more advanced the class, the easier it was to get good grades as there was generally less busy work."
Nouriyelian encourages underclassmen to get involved with extracurriculars and to study.
"Get involved in a lot of clubs, even if you don't like them," Nouriyelian said. "A lot of these clubs—Math Team, in particular—sound really good for college and really fluff up your application even though they aren't huge time commitments. Also, don't be an idiot and wait until junior year to start studying for school. I know a lot of kids that messed up their GPA earlier on in high school [who] regret it."
In addition to his advice for being successful in school, Nouriyelian also gave advice on where to get food near school.
"Most importantly, Amal and Bistro are so much better than House of Subs," Nouriyelian said. "I used to go to Subs every day. Big mistake."
Looking back and reflecting on the past four years, Nouriyelian was mostly satisfied with his high school experience.
"I wish I had joined the badminton team," Nouriyelian said. "That's probably [my] biggest regret about high school. Other than that, I'm happy I'm done with high school. Changing my high school experience would probably change me too much, so I don't think I would change anything that significant."
"[The] best part of the announcement though is that I really can just be a senior as there's not much left of the year except not getting rescinded," Nouriyelian said.
About the Writer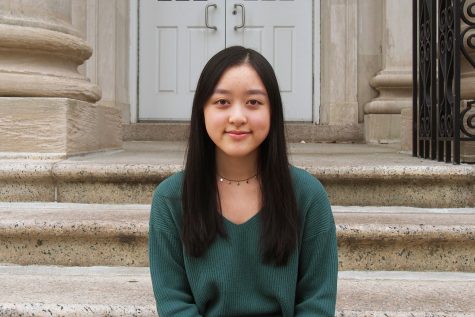 Lauren Yu, Editor-in-Chief
Lauren Yu is one of Guide Post's editors-in-chief. She loves interviewing North High students and covering local news. Outside of Guide Post, she is an...