An honest taste of France in Great Neck — Marie Blachère
Hang on for a minute...we're trying to find some more stories you might like.
Just when you thought your off campus lunch options were endless, another restaurant pops up in town.
Marie Blachère is a French bakery (a "boulangerie" if you want to sound fancy) that opened on Middle Neck Road last Tuesday, right across from the firehouse and basically right next to Dunkin Donuts. Since it's located so close to North High school, it has quickly become a popular site for students to eat. But in case you're skeptical of the quality of this new establishment, or just plain lazy, I decided to visit the restaurant to figure out if it's worth your money. This is my review of Great Neck's new bakery.
Marie Blachère is actually a popular chain in France, and the new location in New York is the first to open in the US. The chain also hopes to open more bakeries in NYC and around the U.S. in the near future, according to Long Island Business News. The restaurant is the first of its kind in Great Neck as well.
We're familiar with sushi places, delis, and ice cream stores, but we've never seen a French bakery that makes its food fresh, every morning. The unique background of Marie Blachère is part of the reason why business has been booming, as a large portion of the town's population is intrigued by the new presence.
Though slightly overwhelmed, the staff at the boulangerie is glad they're getting so much attention. "It's been madness in here for the past week!" said Anne, a Marie Blachère employee. "The number of customers we're getting is beyond our expectations ever were. It's hard work but we like to see that we make everyone happy, especially the high schoolers that come in all the time."
When you walk into Marie Blachère, the first thing you notice is the smell. The warm scent of freshly baked bread and pastries wraps around you, making you feel immediately more comfortable and hungry. Lucky for you, all the food that the bakery has to offer is spread out in various glass cases so you can quickly decide what looks enticing enough to order.
The displays showcase everything from cookies to pizzas to tarts, and much more. However, there doesn't seem to be a traditional paper menu offered, as the prices are on labels inside the displays, kind of like a street market.
Sometimes you can catch a glimpse of the back of the bakery, where the products are made fresh everyday. There are several large mixing bowls where the dough is made and proofed, as well as a big machine that shapes the dough into baguettes. The raw items are then put into a huge oven to bake. Unfortunately, the staff did not allow me to take pictures of the equipment, but they're easy enough to see for yourself if you peak past the cash register.
To get a general idea of the quality of the food, I tried out a variety of sweet and savory items. I ordered chicken pizza, chocolate croissants, an almond chocolate chip cookie, a chicken croc marie, fruit beignets, a chicken sandwich, and a pear tart.
The chicken pizza was interesting. The meat was seasoned well with some roasted rosemary, which was a unique taste I haven't really seen on pizza before. The cheese was nice and warm, and not too greasy either. Overall it wasn't anything impressive. If you're looking for a good slice of pizza I would say to stick to Mangia Bene or Gino's.
I was told by multiple friends that the cookies were made very well here, so naturally I was excited to try one out myself.
I have to say I was a little disappointed, as the almond chocolate chip cookie I had was a bit too hard and crunchy for my taste. Nevertheless it tasted like a quality cookie, so maybe I just got unlucky and received a staler one that wasn't as soft and fresh.
My personal favorite item was the fruit beignets, which were comparable to a jelly doughnut hole.
I don't even like jelly doughnuts, but this was different. The dough was soft and light, and the filling wasn't sickly sweet jam or anything like that. Instead, the middle was filled with a fruity paste that tasted like actual berries, not overpowered with sugar or processed material. It was a nontraditional pastry that tasted authentic, and I highly recommend it.
The chicken sandwich was underwhelming to be honest. It looks picturesque in the display cases, but comes up short when it comes to taste. The chicken and greens are seasoned with that same fragrant rosemary, which is great. The baguettes are also delicious of course, but the bread to filling ratio is just way too high. On top of that, there's no sauce and little dressing, which makes the sandwich feel really dry and unsatisfying. Maybe you can bring one home to douse in spicy mayo or something, but I was personally not a fan.
I was pleasantly surprised by the pear tart, since I'm usually not a fan of fruit pies and such. Once again, Marie Blachère's natural approach to food creates a refreshing dish. The pear tastes really clean and fresh, like it was picked yesterday. And there isn't a bunch of gross syrup that overpowers your palate and makes your hands sticky, it's a simple yet satisfying snack with a sophisticated flavor.
The croc marie was the most confusing thing I got. First of all I wasn't even sure what to call it when I was ordering it. It looked like a chicken and cheese sandwich covered in more chicken and cheese. But after some research, I learned that it's most similar to a croque monsieur, which is a baked ham and cheese sandwich often eaten as a snack in France. It ended up being really good, especially if you ask the staff to heat it up before you eat it. The toasted bread is nice and crunchy while the cheese and chicken becomes warm and stays flavorful.
But the best item by far had to be the chocolate croissant. Flaky and warm, with rich traces of chocolate folded into the dough, it was amazing.
There's a light and crisp sugary coating on the outside of the pastry that cracks and melts in your mouth when you bite into it, and the dough isn't too sweet or strong. An extremely balanced item that you must try if you're paying the bakery a visit.
Overall the sweet dishes outdid the savory ones in terms of taste.
The bakery's specialties are really just their pastries and fresh bread, as the pizza and sandwiches tended to be sub-par. If you're looking for a good savory meal, I'd say to stay with your regular delis and pizza places.
Most North students seem to appreciate the new establishment, many having positive comments. "This is the first authentic French place in Great Neck, and I think it's 'upped' the standard of the town even though our standards are already pretty high," junior Vera Cho said. "I love baguettes and pastries, so I think this bakery is great. I'm a huge fan of their 50% off deal that comes on everyday 30 minutes before they close."
Marie Blachère is looking to adapt its building to fit even more customers. They plan to open a rooftop dining space that will be accessible during warmer months of the year. Now that's a sick 7th period lunch spot.
About the Writer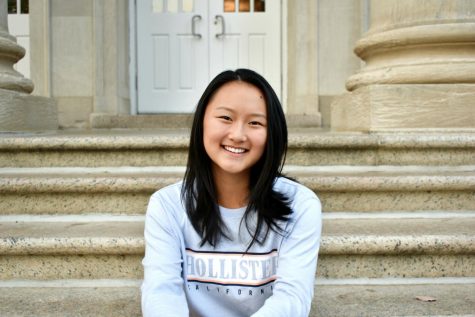 Claire Pan, Senior Managing Editor
Claire Pan is a senior managing editor for Guide Post. Claire participates in a variety of sports at North High, including volleyball, basketball, and...