Amazon Cancels Plans for Long Island Headquarters
Amazon scrapped its plans to build a second headquarters on Long Island after receiving unexpectedly harsh backlash from lawmakers, progressive activists and the local community.
"After much thought and deliberation, we've decided not to move forward with our plans to build a headquarters for Amazon in Long Island City, Queens," Amazon wrote in a statement on Feb. 14. "For Amazon, the commitment to build a new headquarters requires positive, collaborative relationships with state and local elected officials who will be supportive over the long-term."
Founded in 1994 by Jeff Bezos, Amazon is an e-commerce marketplace that started out as an online bookstore operating out of Bezos's garage. Since then, Amazon has grown to become the largest Internet company by revenue in the world, according to Fortune.
In September 2017, Amazon announced its plans for Amazon HQ2: two new headquarters to complement the company's existing headquarters in Seattle, Washington. The company received over 200 proposals for HQ2 locations but ultimately settled on Arlington, Virginia and Long Island City, New York in November 2018.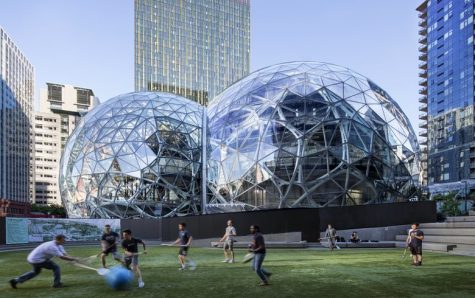 After it was decided that Long Island City would be one of the headquarters locations, Mayor Bill de Blasio and Gov. Andrew Cuomo gathered with other city and state officials to happily announce the news.
"This is the largest economic development initiative that has ever been done by the city or the state or the city and the state, together," Cuomo said during the press conference.
Costing nearly $3 billion, the new headquarters location in Long Island City promised to bring 25,000 jobs paying an average of at least $150,000 a year, according to the Washington Post.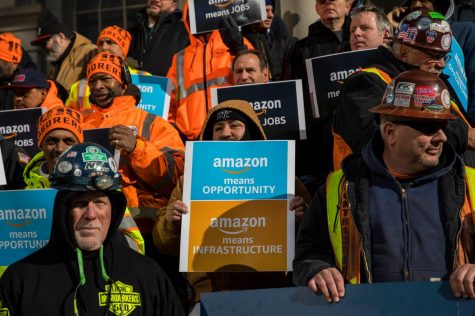 While some people welcomed HQ2 to New York with opened arms, others were concerned the new headquarters would bring more bad than good.
People such as Angela Solis, lead organizer for Make the Road New York, an organization of low-income immigrants and communities of color, worried about the number of people who would move into Long Island City because of the new jobs, taking jobs away from the local community.
"The issues that really resounded with our members and community were displacement, school overcrowding and Amazon's data surveillance practices and partnership with ICE," Solis said. She also said lower-income residents were not hopeful they would get many of the 25,000 jobs.
Melissa Checker, a professor of urban studies at Queens College, also pointed out the opposition among the working-class in the local community.
"New Yorkers have seen these projects come in with a lot of promises, and they don't always work out so well for the working-class people," Checker said.
Amazon ultimately made the decision to cancel its plans for HQ2 in Long Island on Feb. 14.
"While polls show that 70 percent of New Yorkers support our plans and investment, a number of state and local politicians have made it clear that they oppose our presence," Amazon wrote in a statement. "We are disappointed to have reached this conclusion—we love New York, its incomparable dynamism, people, and culture—and particularly the community of Long Island City, where we have gotten to know so many optimistic, forward-leaning community leaders, small business owners, and residents."
Democratic Representative Alexandria Ocasio-Cortez celebrated the news, viewing Amazon's scrapped plans as a victory.
"Anything is possible: today was the day a group of dedicated, everyday New Yorkers & their neighbors defeated Amazon's corporate greed, its worker exploitation, and the power of the richest man in the world," Ocasio-Cortez wrote in a tweet.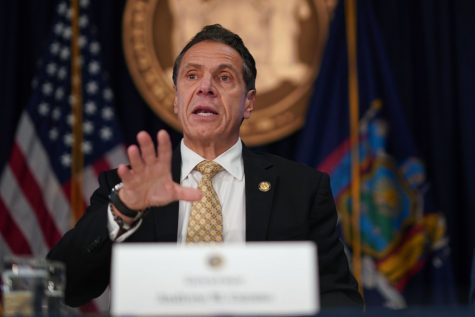 New York Governor Andrew Cuomo was not as ecstatic regarding Amazon's decision.
"You want to diversify your economy?" Cuomo said in a news conference. "You don't want to just be Wall Street and finance? We need Amazon."
Although Amazon cancelled its HQ2 plans for Long Island, the company is still following through with its plans for Arlington, Virginia.
While some people have hopes that Amazon may change its mind in the future, it doesn't seem like the company will return to New York any time soon unless its presence can be received differently.
About the Writer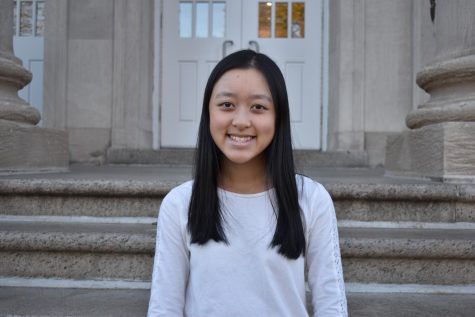 Lauren Yu, Managing Editor
Lauren Yu is a managing editor for Guide Post Online. Outside of Guide Post, she is passionate about science and art. She is also the vice president of...