From Holtzman to Ms. Silk — Here's How North High's Teachers Stay In Shape
Hang on for a minute...we're trying to find some more stories you might like.
When we see our teachers everyday, it's easy to get caught up in a one-dimensional view of them. After all, they seem so comfortable in their classrooms that it's hard to imagine they do anything else. But teachers have lives too. And like the rest of us, teachers make sure to keep themselves healthy and fit.
Whether through special diets or rigorous workout routines, we got an inside look at the fitness lives of  North's teachers. Here's a list of well-known faculty members, and each of their health and fitness stories.
Mr. Holtzman – Principal
Even the principal of North High has a life outside of school, you know. If you hang around after class ends, chances are you'll find him running on a treadmill or lifting weights in the fitness room.
Mr. Holtzman sets a personal goal for himself every week to exercise four to five times. In each workout, he tries to isolate two body parts and include cardio. However, if he is running short on time in a particular week, he will switch those out for two to three full body workouts.
At first Holtzman focused mostly on running in his workouts, but decided to incorporate weights during his twenties, and has kept them in his routine since.
Holtzman monitors his portions at every meal, and makes sure to limit foods high in sugar, salt and fat.
"As an educator, I have always held myself to a standard that serves as a role model for my students," Holtzman said. "I believe a large responsibility of working in a school is to practice what you preach and live a lifestyle that is positive and healthy."
Mr. Rutkowski – Instrumental Director
Besides creating harmonious music or yelling "maggots" at his students, Mr. Rutkowski also puts a surprising amount of effort into his health.
It's hard to tell now, but Rutkowski used to be on the heavier side when he was a kid. Though he always loved baseball, Rutkowski wasn't really an athlete, hated gym class and didn't eat right.
When describing how he decided to make a change to his habits, Rutkowski bluntly explained, "When I wanted to start dating, my friend told me that I better lose some weight if I wanted to get girls."
And so with this brilliant motivation, he put the work in.
Rutkowski started a regiment of simple exercises everyday, such as push ups, jumping jacks and sit ups.
He has kept that same routine up throughout the years, and it has clearly worked for him in the long run. The sit ups help keep his back straight, as do a routine of stretches that he completes every morning.
Today Rutkowski exercises at 5 am everyday to keep his body loose and stretched, as well as to keep his stomach flat. He prefers to stick to a diet of fruit and energy bars during the day, and returns home to have a normal dinner cooked by his wife. But desserts are secretly his weakness. Rutkowski admits that he can eat a ton of ice cream and cookies, and tries to stay away from tempting sugary foods or else he will lose control, overeat and put on weight easily.
Mr. Rutkowski's son, a filming major, recorded this video of his father's morning routine. The short film tells a story behind the renowned conductor, and gives raw look into the daily life of "Wild Man Joe."
To see a clip of Rutkowski, Bonvo, and Krauz playing baseball in the staff parking lot, click here:
Mr. Appell – Chemistry/Biology Teacher
One could argue that the idea of intermittent fasting was introduced to North by Mr. Appell. Nowadays it is an iconic trait of his, as he often discusses his experiences with students.
He started following the diet on Christmas of 2016, and has lost a significant amount of weight since then.
Appell does not eat before noon or after 7 pm, allotting himself a seven hour period each day to consume his meals. He doesn't try to restrict any specific kinds of food, but finds that since there is less time in the day to eat, he naturally ends up taking in fewer calories.
Appell explained that he started his dieting journey because he felt like he didn't care about his weight enough, evident from the way it was gradually increasing. To kickstart a diet, Appell contacted an old friend for information about intermittent fasting.
"A guy I knew in high school constantly posted articles about it on Facebook," Appell said. "So I reached out to him and he sent me all these sources about intermittent fasting."
Appell feels that his diet does enough for his health, and so does little exercise to accompany his eating habits.
He is currently participating in a weight loss competition among faculty members to motivate even more progress. But be warned – rumors from the science office say that he cheats by putting rolls of quarters in his pockets during the first weigh-in.
Mr. Cubinski – Computer Science Teacher
Ah, computer geeks. They probably don't do anything but laze around on electronics all day, right?
Not for this particular geek.
Mr. Cubinski actively keeps himself on a strict ketogenic diet, and plays hockey regularly.
He was originally too skinny in high school, even though he ate a lot. Cubinski would easily have half a pizza pie for dinner, eat four bagels for breakfast the next day, drink a bunch of weight gain powder, and still have no changes occur to his body.
"Then freshman fifteen happened in college, and so I started to look more normal since I started out so skinny," Cubinski said. "But those bad eating habits followed me out of college and into my adult life, which is where I gained most of the weight."
He decided to go on the ketogenic diet because it was the only one he tried that gave him the results he was looking for. It was also a natural transition for him because he did not eat unhealthy things, he just tended to overeat them at mealtimes.
The keto diet is not about caloric intake, it focuses on carbs. Cubinski only allowed himself to have around 30 net carbs a day.
For reference, a slice of pizza is usually around 40 net carbs, while four pounds of steak and five cups of spinach is five net carbs.
By starving your body of carbs as an energy source, it begins to break into your fat reserves for fuel, making you lose weight.
Cubinski has lost about 50 pounds in the course of eight months thanks to his disciplined diet. And he finds that he is more sensitive to the foods he used to eat all the time such as rice and bread.
He plays hockey in the small gym with teachers on Wednesdays and Fridays as a goalie, and considers the games casual yet a fun way to be competitive. Mr. Cubinski has participated in a Spartan Race before, which is an intense obstacle course that can include miles of running.
Ms. Silk – Spanish Teacher/Coach
If you've ever had Ms. Silk as a coach, you know how intensely athletic she is.
Silk likes to stay in shape year round, as she coaches three girl's sports teams: 7th grade Volleyball, JV Volleyball and JV Softball. She is known for pushing her athletes to be disciplined and strong, but she pushes herself even harder.
For her personal workouts, Silk usually warms up with cardio. She prefers high intensity interval training exercises, and raises or lowers the pace throughout the workout.
Silk used to participate in CrossFit workouts, but eventually switched out to focus more on cardio and less on weightlifting since she is interested in toning her muscles, not bulking them up.
Silk is motivated to stay in shape, as it gives her more energy. "I feel less tired when I'm working out," Silk said. "A lot of people have this misconception that working out is going to make you more tired, but it actually gives you more energy, and it actually makes me eat better."
Silk's tries to keep her diet stocked with a lot of protein, and limits carbs and fats. Which, according to Silk, "Isn't the easiest thing to do considering the language office always has snacks and sugary things to eat."
Nevertheless she manages to keep her self control most of the time, and instead turns to filling proteins to fuel herself such as chicken and spinach, as well as water to stay hydrated.
Ms. Nastri – Special Education Teacher/Coach
Now if you know who Ms. Silk is, you've probably seen Ms. Nastri before.
The dynamic duo spends a lot of their time together, as they coach the same girl's sports for the whole year.
Nastri is in charge of 8th grade Volleyball, Varsity Volleyball and Varsity Softball. While she has been coaching for a long time, her newest obsession is Orangetheory workouts.
Orangetheory focuses on targeting different heart rate zones throughout the workout session, which are usually reached through interval training that includes cardio and resistance weights.
Nastri attends an Orangetheory class three times a week for an hour in order to tone up her muscles. She finds classes more effective because she enjoys the competitiveness factor that comes along with them.
She tends to position herself near a member that she knows will be a challenge to keep up with so that her limits are pushed, allowing her to get more out of each session. Similarly to her coaching bestie Silk, Nastri feels that exercising gives her more energy throughout the day.
"We all have those days when we want to skip a gym day or take a break," Nastri said. "But I do notice my energy levels drop when I allow myself to do that. My mood goes down and I get cranky. So I do think it's important to stay fit and be active."
But unlike Silk, Nastri admittedly struggles to keep her diet as disciplined as her workout habits. "My diet is terrible," Nastri said. "I am the first to admit that I eat like an 18 year old boy…"
Nastri tends to skip breakfast and lunch, instead choosing to graze on sweets and snacks. She also finds that she relies on coffee rather than water, and realizes that it impacts her energy levels during exercise.
Recently, Nastri has been making an effort to improve her eating habits to become a fully health-conscious person, and hopes to drop her adolescent diet soon.
While your favorite teacher might stay in shape one way, clearly there are many different ways to keep yourself healthy and fit, so it's important to realize that what one person does may not be the best option for you. All teachers encourage that you do your research before you decide to make any changes to your lifestyle, and to figure out what you want to do based on the results you're looking for.
About the Writer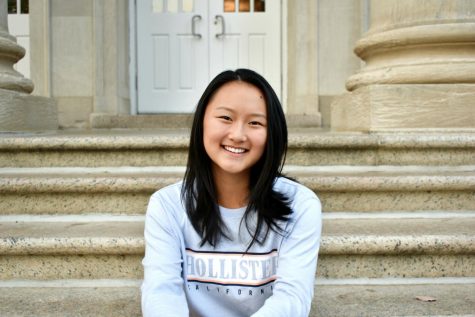 Claire Pan, Senior Managing Editor
Claire Pan is a senior managing editor for Guide Post. Claire participates in a variety of sports at North High, including volleyball, basketball, and...