North High's International Night
Hang on for a minute...we're trying to find some more stories you might like.
Students, faculty and community members came together on Tuesday, March 19 to celebrate the Eighth Annual International Night show. This evening was a collective event that celebrated the cultural diversity of our school. According to English teacher Erin Lee, coordinator of International Night, "Multicultural Club is a place of inclusion. It is a place where the minority groups at North High work together and become the majority and host International Night." Students share their culture through dance, music and the arts.
When guests first walked into the Commons, they saw a board with positive quotes and welcoming signs. There was a world map where people could scratch off which country they were from.
The audience was able to enjoy exciting performances by talented students. The show opened up with the Pledge of Allegiance and the Star Bangled Banner, introduced in sign language by the American Sign Language Club.
The French Club then sang "Tout le bonheur du monde," a song which means "All the happiness in the world." Students also performed with cultural groups that were not their own. Non-French students sang French songs and non-Greek students danced Greek dances.
A Chinese song 后来的我们 (The Future of Us) was outstandingly performed by Kelly Liang and Simon Liu. Kelly's sweet voice and Simon's guitar playing worked perfectly together and brought the audience into complete awe.
Another production was a Greek Performance, where students and teachers, including Spanish teacher Bessie Karanikolas and French teacher Joanna Asvestas, danced to elegant Greek songs. The Greek dances performed were the "Hasapiko" and the "Kalamatiano" – two very well known dances in Greece.
The Hebrew Culture Club brought fresh choreography to the stage dancing to "Karmela," a Hebrew hip-hop song. During the routine, the performers wore belly dancing hip scarves to represent a typical Israeli dance outfit. The teacher of the dance group and Hebrew teacher Yamit Nassiri said, "Personally I love this event because so many cultures come together to make music, dance and be happy".
Students from the Great Neck North Middle School also made a special appearance to International Night. They performed a cool KPOP dance that everyone loved. Miriam Salman elegantly sang "גרסת בנות- קריוקיף פּסנתר",(Build Barbie you've got a place for me).
Lastly, Latin American Multicultural Club members came onto the stage with great energy and performed a Latin American Dance.
Following the performances, the Multicultural Club hosted a food fair. Here, the guests were able to try foods from different cultures. Many eateries from around the area provided selections off their menu for attenders to enjoy. For example, Amal was one of the generous sponsors and served Middle Eastern cuisine. Visitors were also able to grab a taste of France from baguettes and desserts provided by the Marie Blachère Bakery. The catering by Shiraz brought a taste of Persian Cuisine for guests to savor. Through an evening of song, dance and, of course, food, students relished in sharing their culture and experiencing the cultures of others within North High.
After a delightful meal, DJ McLovin opened up the dance floor to everyone.
Eight years ago, Susan Marcas, a retired ENL teacher began International Night. She came this year to see the show and said, "It brings together all of the linguistically and culturally diverse backgrounds of the students here at North High".
The Multicultural Club did a splendid job planning and preparing every aspect of the show. Sarit Gad, senior and president of the Multicultural Club, said, "I believe that nights like International Night can show the world how colorful and beautiful an inclusive world can be. I hope for this to be the first step to opening people up to different cultures." In a world filled with cultural diversity, International Night promotes inclusion and celebrates the ethnic backgrounds of the student population. With only a $5 dollar entrance fee, guests were able to enjoy an experience worth so much more.
About the Contributor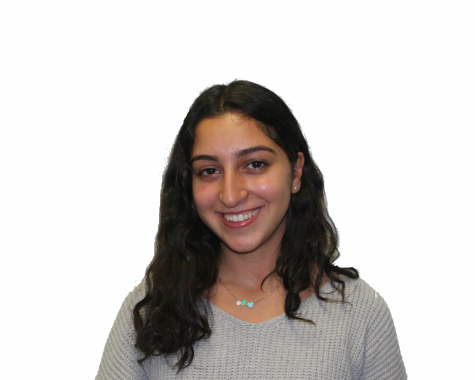 Nora Monasheri, Managing Editor
Nora Monasheri is one of Guide Post's managing editors. Aside from Guide Post, she is Vice President of both the Teens For Tomorrow club and Hebrew...