'Twas a Night of Camp: Met Gala 2019
Fashion's biggest night, famously known as the Met Gala, took place this past Monday at New York City's Metropolitan Museum of Art. Celebrities showed off their phenomenal outfits accompanied by fabulous accessories and makeup.
The theme of this year's Met Gala was "Camp: Notes on Fashion." No, not camp as in summer camp, but camp as in Susan Sontag's definition of camp. Sontag, in her 1964 essay, defined camp as "love of the unnatural: of artifice and exaggeration." Therefore, the looks of the night were not your classic-chic gowns, but instead they were some of the most over-the-top, exaggerated and wild outfits you've ever seen.
So whose outfit was the most camp?
Billy Porter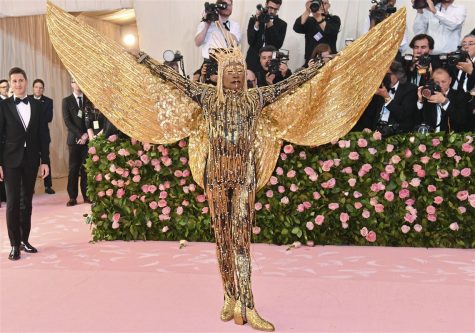 From the Met Gala's pink carpet to the television, Billy Porter absolutely stunned the crowd. Since the first timer is already naturally campy, this year's theme presented no challenge to him. Billy's fabulous look was designed by The Blonds, Phillipe and David Bond, who are known for their modern camp style.
Each piece of Porter's outfit took several months to complete. The outfit featured a gold catsuit, completely decorated by hand, covered in gold crystals, beads and fringe. The suit was also complemented by detailed ten-foot long gold wings. In total, Porter's outfit contained over a million crystals, beads, and chains. Porter's extraordinary look also featured a stunning headpiece containing about 24 karats of gold. His shoes were by Giuseppe Zanotti and his flashy jewelry was by Andreoli, John Hardy and Oscar Heyman.
To pull the look together and add the perfect finishing touch, Porter's face makeup featured gold paint and jewels surrounding his eyes. And lastly, to make his entrance even more grand, Billy entered the Gala lying upon a velvet black throne carried by a group of six shirtless men. What could be more camp than that?
Cardi B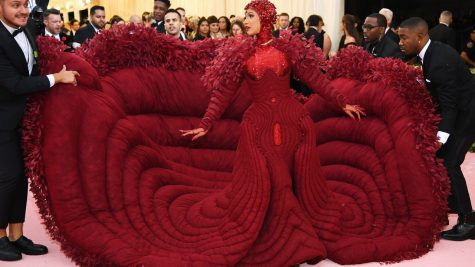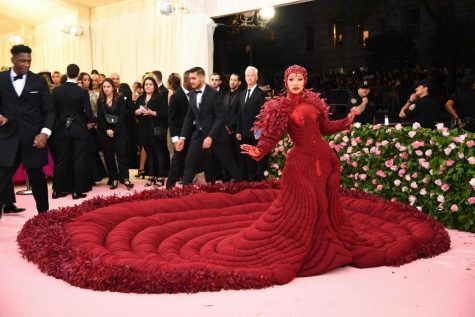 There were very few outfits as camp as Cardi B's. Cardi's dress was designed by the talented Thom Browne and took a whopping 2,000 hours to create. The hard work paid off as Cardi literally shut down the carpet as her fabulous dress featured a ten-foot train. In addition, her train was lined with dyed coque feathers, which required a whole team of men to help maneuver around.
"I designed this dress for Cardi specifically because she has the ultimate beauty in a woman's body, and that is what the dress is about for me: taking advantage of that beauty," Browne told Vogue. Since her dress was inspired by feminism, there was great emphasis placed on certain portions of Cardi's gown. The chest outline of the gown was made entirely with 44 karat rubies designed by Stefere Jewelry. These ruby details totaled to an overwhelming 500,000 dollars worth! And to pull it all together, Cardi rocked a stunning ruby-red crystal headpiece designed by Stephen Jones.
Zendaya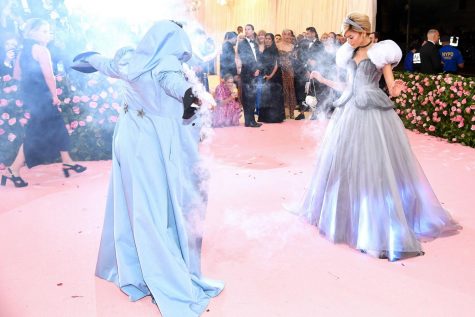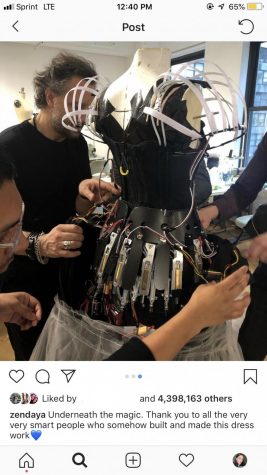 The Disney Channel princess turned into a literal Disney Channel princess this past Monday night. The actress arrived in a beautiful Tommy Hilfiger gown mimicking that of Cinderella.
Her gown featured beautiful light-blue puffed sleeves at the shoulders as well as a blue corset at the waist, followed by an A-line skirt. With a flick of his wand, her stylist Law Roach, acting as her fairy godmother, was able to light up Zendaya's entire outfit from gray to blue. However, this was only able to work thanks to the Hilfiger team and their collaboration with Hussein Chalayan, a British designer.
Zendaya shared to Instagram all the technology beneath her totally camp dress. The Cinderella look became even more magical with Zendaya's pumpkin-inspired purse and blonde hair held by a baby blue headband. She even took the extra step of leaving a glass slipper at the famous Met Gala stairs.
RuPaul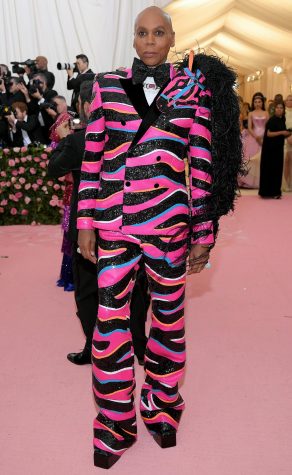 Although RuPaul, one of the most famous drag queen artists in the world, did not show up to the Met in drag, he sure showed up in camp.
RuPaul wore an extraordinary neon-colored suit. The suit featured zebra stripes of shiny black, hot pink, hot orange and hot blue colors. Also, the suit included a huge zebra head at the shoulder.
The look was complemented by 30 inches of ostrich fringe running up his left sleeve and meeting the zebra head on his shoulder. This amazing custom suit was designed by RuPaul's talented stylist, Zaldy.
Katy Perry
Katy's entrance to the Met Gala brightened up the room. Literally. Known for being extravagant in her appearance, Katy Perry did not make an exception for this Met Gala.
The singer displayed herself in a very camp dress designed by Moschino. The dress resembled that of a chandelier, featuring numerous candles and crystal beadings. The crystallized silver mini dress was surrounded by the bottom portion of a chandelier, while the top portion was attached to Perry's headpiece. Hundreds of crystals were draped along the singer's body at her neck and waist.
The entire ensemble weighed a whopping 40 pounds. "There is a built-in corset consisting of 18 steel bones [rigid parts of corset that form its frame] and two hidden battery packs to illuminate the lights," Moschino designer Jeremy Scott told Vogue. "I mean who wants to wear a chandelier that doesn't light up!"
About the Writer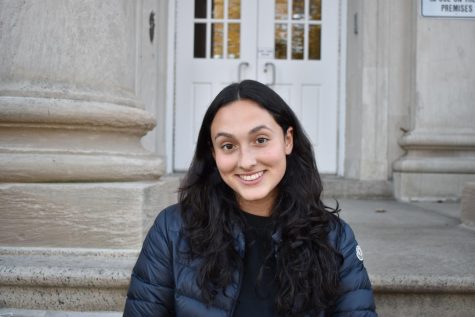 Alyssa Ghassabian, Managing Editor
Alyssa Ghassabian is one of Guide Post's managing editors. She is passionate about tennis, and is the captain of the Girls Varsity Tennis team. She is...