Which Great Neck Iced Coffee Spot is the Best?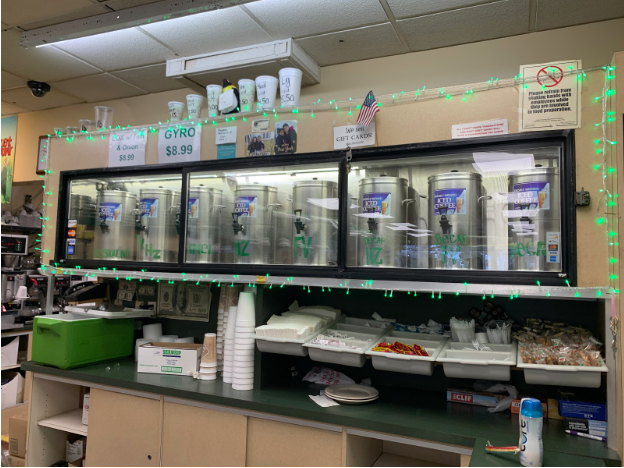 "I NEED COFFEE," is probably one of the most common phrases you will ever hear uttered in the hallways of Great Neck North High.  While the constant stress of school-work is taking a toll on our sleep schedule, it's no surprise why most of us have repeated coffee cravings throughout the day. With so many spots to choose from, one debate has still not been settled. Which is the best Great Neck North coffee spot? 
After trying out the different varieties of coffees, here are the most popular options:
Marie Blachère
The first coffee spot for North High students would be Marie Blachère, the french bakery that just opened last year. Upon its grand opening, Marie Blachère has become a popular place for students to grab a quick bite. 
Most people can agree that Marie Blachère makes great french pastries and sandwiches. However, when it comes to coffee, they are lacking.  The coffee at Marie Blachère is offered in a self-serve fashion. If you decide to order a coffee there, you will be given a cup of black coffee and will have to do the rest yourself.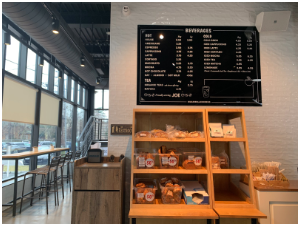 Milk and sugar are located on the side right across from where you pay. You can pour as much milk as you'd like and there are sugar packets located on the side.  As for the coffee, it tastes very bland and almost like water. I was pretty disappointed when I ordered my coffee from there, and I definitely will be considering other coffee spots over Marie Blachère. 
However, if you are looking for a quick and self-served spot to grab some coffee, Marie Blachère certainly will work for you. In addition, it also should be considered that Marie Blachère specializes in French pastries, not coffee. 
Dunkin' Donuts
Of all the coffee spots mentioned in this article, Dunkin' Donuts is definitely the most well-known spot around the world.  Although there are many things that Dunkin' Donuts excels at, such as donuts and breakfast sandwiches, their classic iced coffee is a bit of a letdown.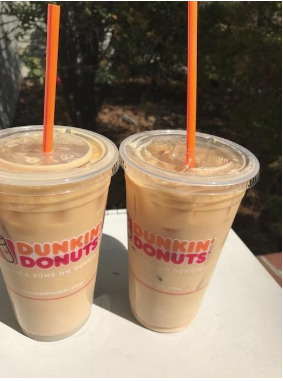 The workers are a bit rude and are more worried about making your coffee as quickly as possible and taking your money than making something of quality.  Because of this, they commonly mess up your order, according to the previous Dunkin' Donuts coffee experiences that I've had. The classic iced coffee at Dunkin' Donuts is very bland tasting and comes with too much ice, leaving the coffee tasteless after a couple of sips.
But despite this review, it is also important to note that this article is only judging Dunkin' Donuts on its classic iced coffee. They also offer a variety of other caffeinated drinks. So while the classic iced coffee at Dunkin' Donuts may not be the best tasting, most customers usually order other variations such as an iced caramel latte or an iced mocha. These drinks perform much better in terms of taste compared to the regular iced coffee. 
Bagel Hut
Bagel Hut, Great Neck's favorite spot for bagels, certainly has some good coffee to go along with their delicious bagels. With Bagel Hut being the leading choice among Great Neck North's lunch spots, often with long lines during lunch periods, it's not a surprise that their coffee doesn't disappoint.  The workers are always enthusiastic to serve you which makes the experience even better.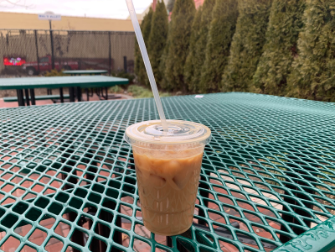 Most people order their coffee along with a bagel which is usually served pretty quickly despite the long lines.  Bagel Hut has a lot of choices for coffee, and pretty affordable prices. Upon trying it, the first thing I noticed about their coffee is how rich and flavorful it tastes compared to the previous two coffees I tasted in this article. However, they do put a lot of sugar in their coffee, so if you prefer your coffee with less sugar, you should let them know. 
The workers are also extremely considerate of how you want your coffee to taste if you order it with changes such as extra sugar and extra milk. Also, if you are not satisfied with your coffee, the workers are happy to take it back and make a new one for you. 
Deli On The Green
Last but not least, as Great Neck North's favorite iced coffee spot: Deli On The Green. With its classic white styrofoam cup wrapped in saran wrap, the iced coffee from Deli On The Green is an essential for all North High students, with some of us who can't go a day without it. My personal favorite would be Deli's French Vanilla Hazelnut iced coffee. And yes, It's exactly as good as it sounds.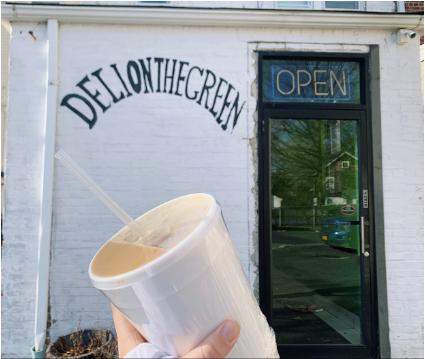 One sip is enough to keep you coming back every day for more whether it be before school, during school, or after school. "Deli always gets my order right with the perfect amount of sweetness," said junior Victoria Varkonyi.
Deli on the Green's iced coffee has the tastiest and most satisfying flavor out of all the coffees reviewed in this article. If there was one coffee I had to choose to drink for the rest of my life, it would be the coffee here.  Junior Shaina Mahkany said, "I like deli's iced coffee the best because it's reasonably priced for their sizes and really good." 
The workers are always happy to serve you and will take your order with a smile. Most North High students are familiar with the workers who already memorized their orders after a couple of visits.  Junior Sophia Mahfar said, "I've known the people there since I was really young and they have many options to choose from.
The variety of choices at Deli On The Green include caramel, french vanilla hazelnut, decaf, and more. There's just something about holding the styrofoam cup that's filled with Deli coffee that melts in your mouth and makes a north high student feel ultimately fulfilled.
The next time you're stuck in class and feel yourself craving for coffee, make sure to stop by at Deli On The Green and they sure won't disappoint. 
About the Writer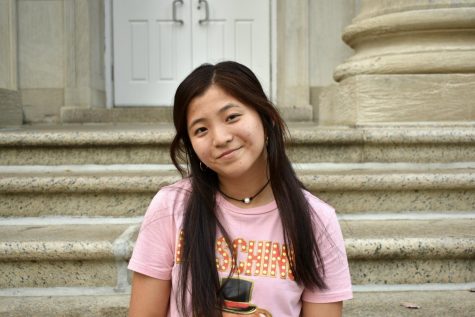 Samantha Wo, Senior Managing Editor
Samantha Wo is one of Guide Post's senior managing editors. She enjoys online shopping, watching Netflix, reselling shoes and streetwear, playing guitar,...