Great Neck Students Harassed While Bicycling, Alleged Anti-Asian Racism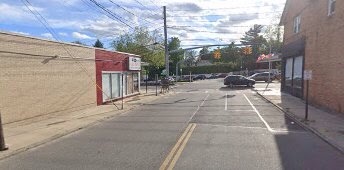 Two Great Neck students of Asian descent were allegedly physically and verbally harassed by three other students while taking a bicycle ride on Baker Hill Road on Sept. 8. The incident has raised concerns regarding the safety of Great Neck's Asian community. 
The two students who were allegedly harassed were a North High freshman and a fifth-grader from E. M. Baker Elementary School. The alleged attackers were three middle school boys.
The middle schoolers allegedly mocked the two students for wearing masks, damaged one student's bicycle and grabbed the students to prevent them from leaving. The two students, who were siblings, returned home in tears, prompting their mother to call the police. However, little could be done because the perpetrators were minors.
After hearing of the incident, many students and community members have begun to worry about the current safety of Great Neck's Asian community, and many have speculated that the incident was sparked by anti-Asian racism induced by the rising cases of COVID-19 in Nassau County.
"The Asian community has faced increased discrimination and oftentimes blatant racism during the pandemic because the first cases appeared in Wuhan, but that is no excuse to suddenly feel as though Asians and Asian Americans all are contagious and carry the virus," junior Victoria Guan said. 
Some students have even stated that racism is not an abnormality in Great Neck, and that "racism is an underlying social norm at Great Neck North," senior Ilana Cooke said. "It can be seen at the lunch tables, which are typically segregated by race."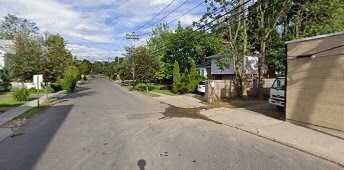 According to a U.S. News Healthiest Communities analysis, Nassau County ranks 1st in terms of public safety records across the nation. Despite the common conception of Great Neck being sheltered and relatively safe, some students were not shocked at the news of the incident.
"It was not surprising at all that middle schoolers have done this because they're just taking inspiration from the way that their parents act—either publicly or privately—and they aren't mature enough to realize that what they're doing is harmful and incorrect," said Claire Luo, a junior.
Great Neck School Superintendent Teresa Prendergast also denied that any anti-Asian incidents have occurred on school grounds. 
"I do want to reassure and confirm that the district absolutely remains committed to providing a safe, respectful and inclusive environment for students as well as staff, and we denounce any type of bias behavior," Prendergast said during a recent Board of Trustees meeting.
Many Great Neck residents, however, are still not convinced. Throughout the COVID-19 pandemic, reports of hate crimes against Asian Americans have surfaced across America, and according to the Great Neck Chinese Association, Great Neck is not an exception.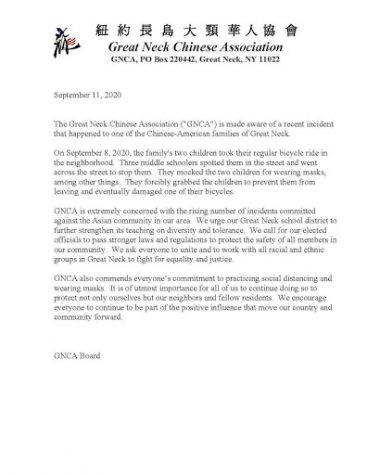 The incident on Baker Hill Road immediately grasped the GNCA's attention, and in a public statement issued on Sept. 11, the GNCA expressed their rising concern and stated that there has been an increasing number of anti-Asian incidents taking place in Great Neck.
The organization's document stressed the importance of social distancing and the use of masks, pushed for the school district to "further strengthen its teaching on diversity and tolerance" and called on Great Neck's "elected officials to pass stronger laws and regulations to protect the safety of all members in our community."
Placing the situation at hand in a more positive light, the letter asks the community "to unite and to work with all racial and ethnic groups in Great Neck to fight for equality and justice."
Leave a Comment
About the Contributor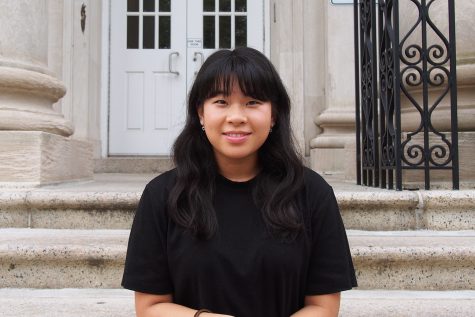 Cheri Chu, Managing Editor
Cheri Chu is one of Guide Post's managing editors. She loves listening to BTS and has a huge passion for art. Cheri likes playing tennis, reading fantasy...