Athletes Take Action For BLM
The sports world has now adopted taking a knee while the anthem is sung and expects athletes to take action for the Black Lives Matter movement. 
Prior to the killings of George Floyd and Jacob Blake, two unarmed Black men, the sports world condemned Colin Kaepernick for taking a knee during the national anthem. Much has changed since then, as these two separate acts of police brutality catch the attention of many Americans. The sports world has now adopted taking a knee while the anthem is sung and expects athletes to take action for the Black Lives Matter movement. 
At a Magic and Brooklyn Nets' basketball game, every single member of both teams proceeded to take a knee during the anthem, excluding Magic forward Jonathon Isaac. The 23-year-old opted to wear his own jersey with no social justice message. "It's my thought that kneeling or wearing a 'Black Lives Matter' t-shirt don't go hand in hand with supporting Black lives," Issac said.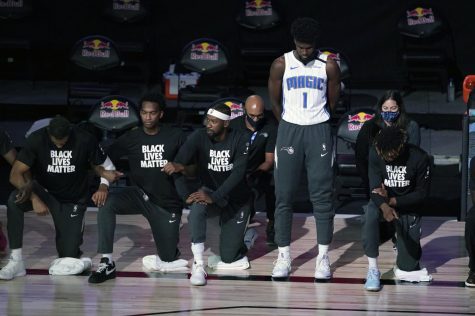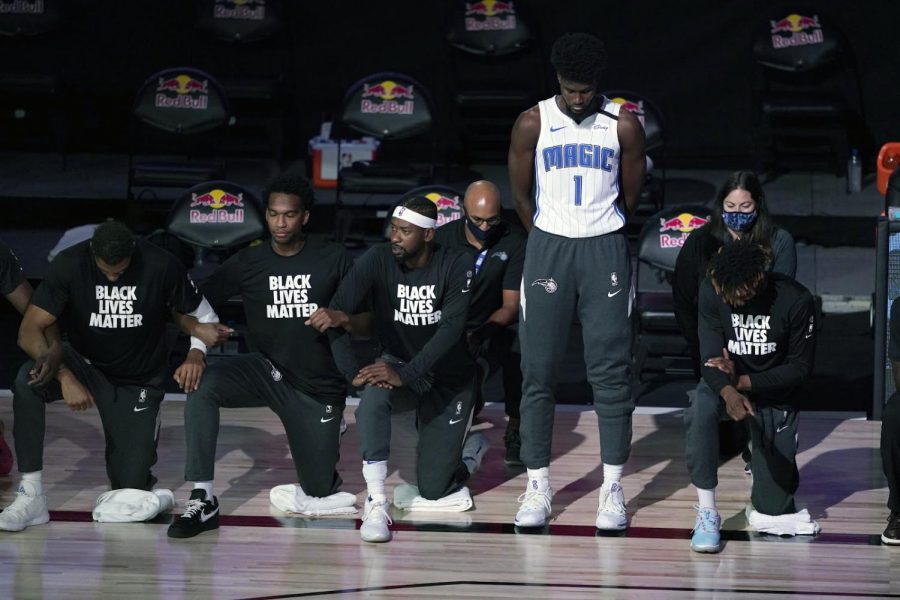 This drew a strong reaction from many fans, with many claiming what he was doing was wrong as an African American. Many fans wished bad on him and celebrated after he sustained a season-ending injury.
Additionally, many athletes have shown their support for the movement by customizing their jerseys with messages that support calls for equality and justice to be served, such as "say their names" or "Black Lives Matter". 
Some of the loudest calls for justice have been coming from athletes using their platforms to spread awareness. Various basketball players, including Jaylen Brown, have made their voices heard on social media as well as in the streets. The 23-year-old on the Celtics drove 15 hours from Boston to a protest in his hometown in Atlanta to make his voice heard and better serve his community. "Atlanta don't meet me there, beat me there," Brown said, on his Instagram story. "Come walk with me and bring your own signs."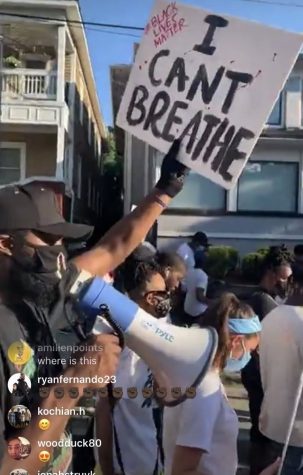 Jacob Blake was a 29-year-old man who was shot by an officer 7 times in the middle of the NBA restart.  That exact day, the Bucks were set to face the Magic in game five of a playoff series, which later was announced as postponed due to a player boycott from both sides in response to the shooting. "We are tired of the killings and the injustice," said George Hill, Bucks guard. 
That Wednesday, two more games were canceled and a league meeting was held to decide if the NBA restart should be canceled entirely, in order not to shift focus away from protests and efforts to bring social justice back to the country. The Lakers and Clippers voted for the season to be canceled, but the season continued due to the rest of the bubble teams voting for the continuation of the season.

Before this, Brooklyn Nets guard, Kyrie Irving held a virtual player meeting describing why the NBA season should not continue because he deemed basketball to be less important than the efforts of social justice taking place. 
In this intense meeting, Irving voiced his concerns. "I don't support going into Orlando. I'm not with the systematic racism and the bulls—t," Irving said. Prior to the shooting of Jacob Blake, Irving was viewed as a disruptor. Only after the shooting was it evident that Kyrie knew basketball would take away focus from social injustice calls. 
As the bubble comes to a close, one must salute the athletes, and activists for using their platforms to make their voices heard and standing up for what they believe needs to be changed. 
Leave a Comment
About the Contributor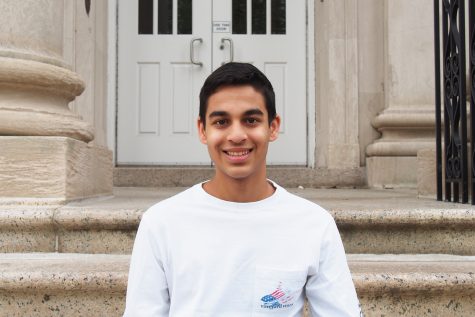 Ariel Baron, Managing Editor
Ariel Baron is one of Guide Post's managing editors. He enjoys playing basketball and soccer in his free time. Ariel enjoys reading, going on bike rides,...