Extracurriculars and the Pandemic
How are clubs and sports coping with new changes due to the pandemic?
There is some uncertainty as to how extracurricular activities after school will continue to take place through the pandemic. As students return to school, safety procedures have been implemented in order to comply with CDC guidelines, in order to make the school the safest place that it can be.
Two weeks into the school year, Great Neck North High's principal, Dr. Holtzman stated in an email that "in-person after school activities are still on hold." Later in the email, Dr. Holtzman has admitted that there is uncertainty as to how clubs and extracurricular activities will continue.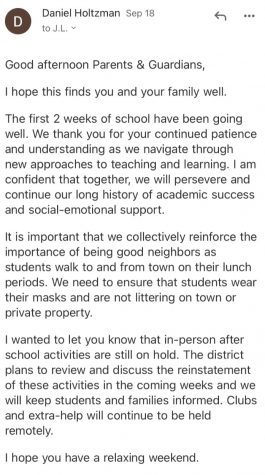 Most students understand the reasoning for holding virtual club meetings, but at the same time are still opposed to the decision."It's harder to get club members involved, and motivated to participate in discussions," said sophomore Nabi Nabavian, an officer of the Jewish Student Union Club. Members of the JSU Club had planned to interview Holocaust survivors in a process called Names not Numbers, but with the way, clubs have continued to take place, officers have concerns over how the process will take place over a Zoom call.
Officers are not the only ones frustrated with Zooms, club members have admitted that it's difficult to participate in clubs over Zoom. "I feel little to no motivation to turn my camera on and participate, after staring at my iPad screen for hours before club meetings," sophomore Avishai Aghelian said.
Additionally, many students have been wondering if school sports would possibly return. After a meeting between Nassau County superintendents and athletic administrators, an announcement was made that sports seasons would be postponed to January 2021.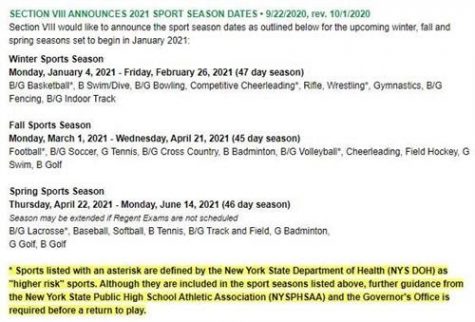 On the North High website, the new sports season start dates were posted: winter sports have been moved to start on Jan. 4 and fall sports being moved to start on March 1.
Certain sports that require contact between opponents over a vast majority of a match are defined as "higher risk" sports by the New York State Department of Health. Wrestling is a higher-risk sport but is included in the winter sports season which is the first season of sports.
Sophomore Isaac Omid was a member of the boys lacrosse team last year which only lasted a couple of weeks due to the cancellation of the school sports season. He fears that this may happen again. "Lacrosse is a high-risk sport according to the department of health, but I feel like if certain safety procedures are enforced sports should be allowed to take place". Isaac continued to say "it may be hard but some students need sports to happen as it is their way of having fun with friends and taking their minds off school".
Additionally, Class of 2020 seniors wanted to partake in Spring Sports for the last time in high school but were denied the opportunity to do so. This year's seniors fear they will face a similar situation. The cancellation of sports will be inevitable if the Coronavirus continues to infect a large number of people in Great Neck, and other Long Island towns. Although it goes against the current policy of students leaving school when it ends, school clubs should continue in person if safety guidelines are followed because of the lack of involvement between club advisors and members through zoom calls. Many students are tired of staring at their screens all day and need school clubs to take place in person so they can feel more involved. All in all, if students continue to take safety precautions seriously they can be granted the privilege of school sports going by this school year.
About the Writer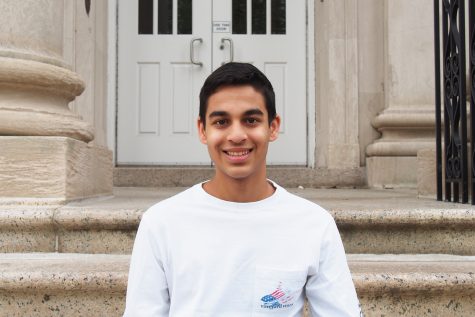 Ariel Baron, Associate Editor
Ariel Baron is one of Guide Post's associate editors. He enjoys playing basketball and soccer in his free time. Ariel enjoys reading, going on bike rides,...