Five COVID-friendly Places to Visit in New York City
There are many places to go to in New York City, even during a pandemic
Sick of being cooped at home? Feel like being home is the only way to be safe? Miss going to fun places? Don't worry, there are many exciting places to visit in NYC while following COVID-19 safety protocols. Grab a mask, some hand sanitizer and get ready to explore! 
1. Go to a museum
Need a break from seeing the same scenery? Take a stroll through some of the most picturesque museums in NYC. Even if you're not such a "museum person," you'll be sure to find a new appreciation for the artwork and all the differing techniques artists use in their artworks!

Almost all museums are open with maximum capacity rules, safety protocols in place, and reservations required. The Whitney, the Museum of Modern Art, and the Metropolitan Museum of Art, are only a few of the many museums that are open seven days a week and operate under the CDC guidelines. Be sure to make those reservations to get a chance to visit some of the finest museums in New York!
2. Visit Edge NYC 
Want to have an exhilarating experience? Standing on the Edge at Hudson Yards will give you that thrill you were seeking! Feel like you're floating in mid-air, while seeing views you can't get anywhere else! 
The Edge is the highest outdoor deck in the Western Hemisphere, measuring 1,131 feet over the whole city. The triangular platform extends out 80 feet from 30 Hudson Yards. This unique experience allows you to see a 360-degree view of the city in a way you have never seen before!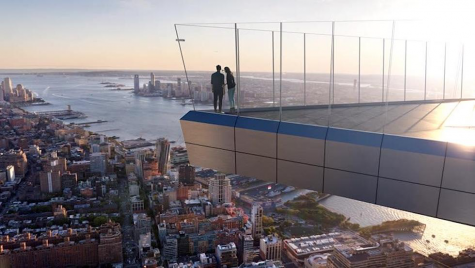 Not to worry, you can overlook the streets of New York, while being safe. The Edge has many protocols in place including, but not limited to, reduced capacity, time slots, temperature screenings, required face coverings, and a one-way travel system.
3. Go Ice Skating 
Get a quick sweat in! Enjoy an upbeat activity that will get your heart pumping and your blood flowing. In the city, there are a few skating rinks including Bank of America Winter Village at Bryant Park Rink, The Rink at Rockefeller Center and the Industry City Ice Rink.
Also, don't forget to take pictures and videos here. All the beautiful lights and decorations make this a perfect place to strike a pose for a cute picture! Take some videos of your skating skills to show your moves with your friends and family.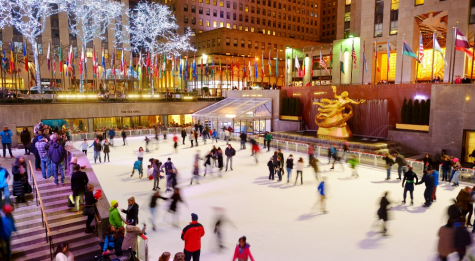 You can enjoy this experience while being fully outside. Most skating rinks have closed off their indoor sections and closed off lockers for personal belongings to limit interaction. All skaters and staff must wear face coverings, over both their nose and mouth.
4. Dine outdoors
Who doesn't like going out to grab a bite to eat? This does not need to come to a halt in efforts to be safe. There are many outdoor dining options available in NYC. Many different kinds of outdoor structures have appeared, including igloos, yurts, domes, and greenhouses, to make dining experiences safer. Heaters are also used in these units to keep people warm while enjoying their meals. These options allow families that have not been in contact in a while to avoid close interaction.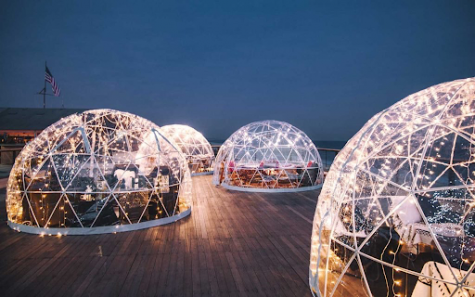 Some of the best and safest places to dine in NYC are Nougatine, The Greens at Pier 17 and the Fairfax Cafe. These places all offer a creative solution to outdoor dining, ensuring that visitors will have an enjoyable and memorable experience! Plus, these outdoor options offer a great way to dine in a way that has never been available during a "normal time!"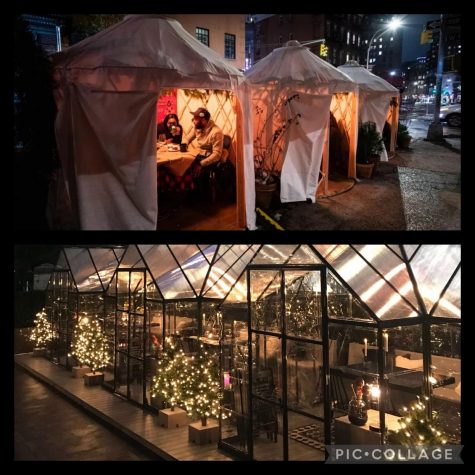 5. Explore nature
If you need to clear your head or want to get out of your house, layer up and explore the numerous parks in NYC. Blow off some steam or unwind from a busy week by going on a hike, run, or stroll through any of the many parks in the city. 
Even though city parks are usually crowded, there are so many parks and trails to choose from that are less known. Keep an eye out for any parks that you can remain socially distant from others. Another option is to go during off hours, during early in the morning or during the middle of the week. Definitely find an option that works for you, because being outside is a great way to stay safe and get a breath of fresh air!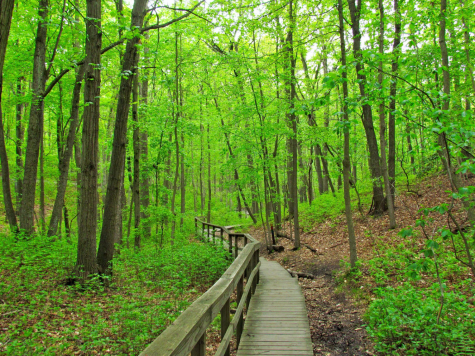 Even though the pandemic has put a stop to many enjoyable activities, there are many COVID-friendly options out there for you to explore!
Leave a Comment
About the Contributor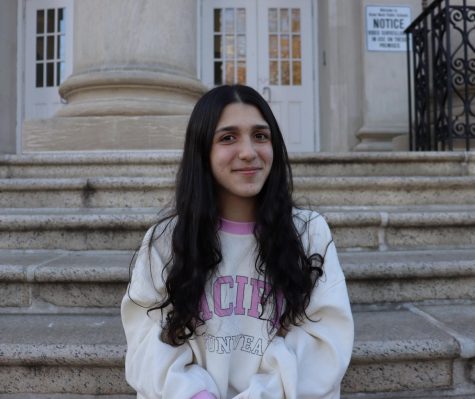 Amanda Lavian, Editor in Chief
Amanda Lavian is one of Guide Post's managing editors. She runs with Great Neck North's cross country and track teams. She also enjoys playing softball...