An Unconventional Met Gala
Every year, people undoubtedly look forward to the Met Gala, one of the most fabulous fashion events in the US, held at the Metropolitan Museum of Art in New York City.  This year was a celebration of the Costume Institutes' newest exhibition, "In America: A Lexicon of Fashion."
Celebrities on the red carpet embraced the theme of America, from flashy and impressive outfits to more discrete American motifs. Oftentimes, stars make it their goal to have creative ensembles while avoiding criticism from the public eye. In the past, the Met Gala has always boasted a few highly memorable outfits, such as the prominent Kylie and Kendall Jenner Duo outfit of 2019. This year is no different. Some of the most breathtaking guests from this year include Billie Eilish, Emma Chamberlain, Timothée Chalamet, and Amanda Gorman. However, a handful of outfits sparked controversy among viewers.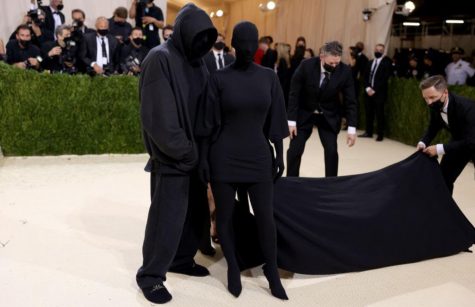 One of the most shocking looks this year was Kim Kardashian's. The reality star made the bold choice of having a masked, all-black look, wearing a bodysuit that covered her entire face. She was accompanied by a man who many initially believed to be Kanye West, but was actually Demna Gvasalia, the creative director of Balenciaga. Although Kardashian has not clearly explained the meaning behind her look, most believe it relates to sexuality in America; specifically criticizing the idea that women "must show skin" to be noticed or recognized by the public.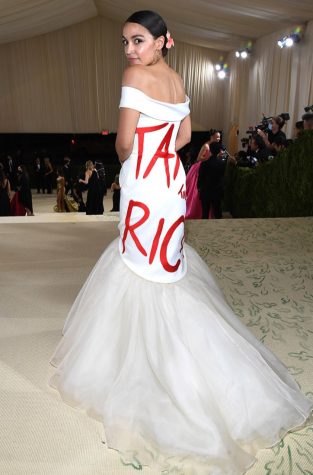 The night's most controversial look was sported by New York congresswoman Alexandria Ocasio-Cortez. She chose to attend the gala wearing a gown with the phrase "Tax the Rich" in big, red font. While the dress was praised  by many as being bold and provocative, critics called the move hypocritical, pointing to the fact that she was at a prestigious event with ticket prices set at $35,000. 
On another note, many social media users feared that influencers took over the Met Gala, and suggested that Tik-Tokers and Youtube stars do not belong at an event as prestigious as the Met Gala. "This year's Met Gala was very entertaining, especially to see all the outfits, but I felt as though there were many people who weren't 'real' celebrities that attended, such as Dixie D'amelio," junior Eliana Sadykov expressed. Others on social media had similar remarks, as the Met Gala is traditionally known for featuring "A-list" celebrities such as actors and music artists, rather than social media influencers.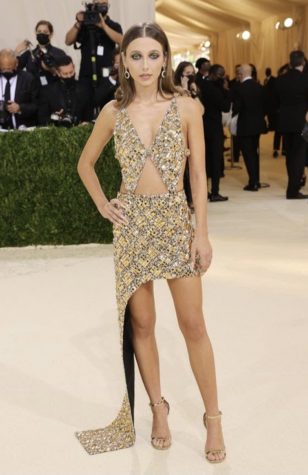 However, others supported the idea of having social media stars at the Met Gala because it made the event seem less formal and exclusive, and more relatable to viewers. "I really enjoyed seeing familiar faces from YouTube and Tik Tok, rather than the same celebrities that show up every year," explained junior Dorin Beladev. I especially loved Emma Chamberlain's look, and I was amazed to see her there."
The 2021 Met Gala was unexpected due to COVID-19, but it was an ultimately spectacular night. Along with the American theme, celebrities were eager to incorporate their ideas and creativity into their costumes, making them as unique as possible, and transforming the event into a lively and enthralling experience for viewers across the world.
Leave a Comment
About the Contributor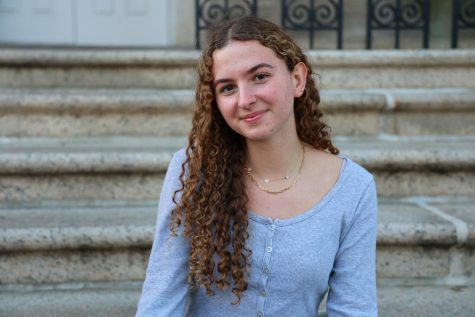 Salome Assaraf, Senior Managing Editor
Salome Assaraf is one of the Guide Post's managing editors. She enjoys being a part of the Varsity Swim Team and is an active member of many clubs, including...