A Day of Doppelgangers: Spirit Week Day 3
On Wednesday, students and teachers matched with their best friends and favorite co-workers for the highly anticipated "Twinsday."
Putting their imaginations to the test, students and teachers planned extensively to find the perfect outfit to wear with a complementing "twin." Students revealed that they had been planning what to wear for this day since the Spirit Week lineup was released. Rummaging through closets to find an outfit was a challenge in itself, but adding to the difficulty was choosing one that was also in their twin's wardrobe. 
Several students weighed in on why they decided to participate. Sophomore Suqi Tian twinned with Danni Zheng. She stated that it was a day for "you and your best friend to be siblings."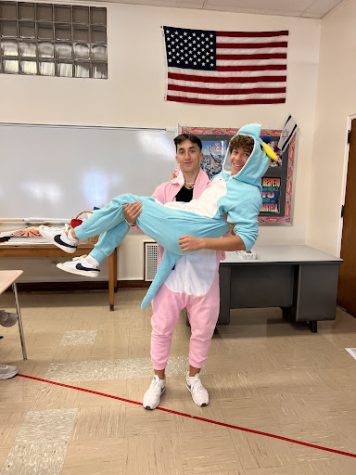 In the Community School Room, also known as the CS room, matching outfits were a common occurrence. 
Member of CS, junior Maurice Zalta listed reasons for why he decided to participate in the  Twinsday festivities!
"Getting to know your friends better, being closer to them, and being connected," Zalta said.
A few students got clever and put together very original outfits. Nina Zar chose colors that matched with the fabric of her stuffed animal.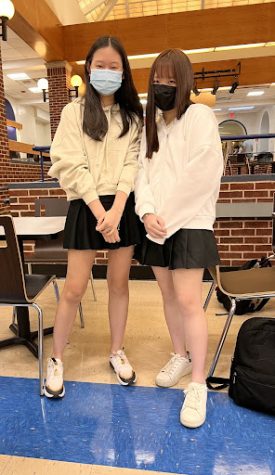 I got very busy with schoolwork and did not have time to coordinate someone to twin with," Zar said. 
Another spirited event featured this past Wednesday was tug of war. 
Supervised by Ms. Silk, the four competing classes sent out four of their students to represent their grade. Packing the front lawn after the last bell, students waited in anticipation for the teams to go head to head in the classic event of tug of war. 
In the first match, the seniors competed against the juniors; it seemed clear who was fated to win. Freshman Tyler Hakimi reflected on this. 
"I think the seniors are going to win the tug of war because they have more power on their side," Hakimi said.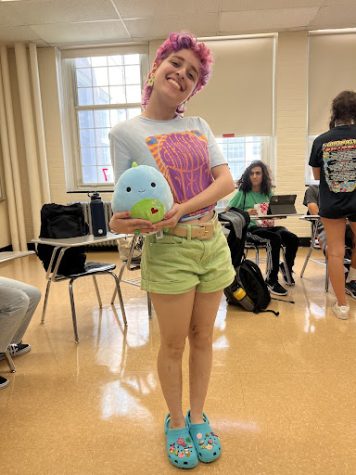 In the first round, the seniors won, becoming finalists of the competition. Also, the sophomores defeated the freshmen making them eligible to compete in the final round against the seniors. However, when competing against each other, the sophomores and seniors tied and both gained twenty points toward their spirit week totals.
Battling for third and fourth place were the juniors and freshmen. The juniors won, and people were chanting from down Polo Road.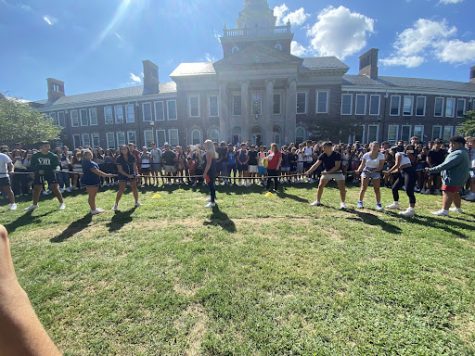 Spirit Week isn't over yet, and the seniors and sophomores are caught in a battle for first place. It will be great to see what happens tomorrow during Quiz Bowl and Class Shirt Day! 
Leave a Comment
About the Contributor
Ian Loo, Associate Editor
Ian Loo is one of Guide Post's associate editors. He is currently the concertmaster of Great Neck North High's Symphony Orchestra. He is also part of the...