New York City Food Hotspots!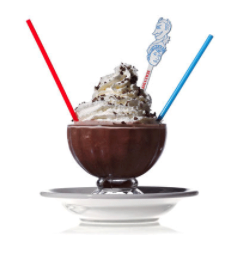 Hang on for a minute...we're trying to find some more stories you might like.
Have you ever visited these sweet-tooth hotspots in New York City?
Serendipity 3:
Serendipity 3 serves delightful treats as well as meals. Inside the restaurant, mouth-watering desserts deliver a sweet aroma. Ranging from over-the-top drinks, cakes, and a Guinness World Record sundae, the menu offers a variety of desserts suitable for all customers. One of the most popular items from the shop's dessert menu is the "Frrrozen Hot Chocolate". Filled with whipped cream and chocolate cake, the drink is full of sugary delight.
Located at 225 E 60th St, New York, NY 10022.
Supermoon Bakehouse:
Looking for a futuristic themed bakery? Supermoon Bakehouse is the perfect hotspot. Packed in iridescent boxes, the pastries presented are all parodies of favorite desserts and flavors. With delicacies such as a "banana split sundae twice-baked croissants," "triple black donuts,"  and "apple pie donuts," the bakehouse provides guilty indulgences. The taste and smell of the pastries is indescribable.
Delicious indulgences can be found at 120 Rivington Street, New York, NY 10002.
Big Gay Ice Cream Shop:
Big Gay Ice Cream Shop is well-known for the creative names and flavors of the shop's various desserts. Not any ordinary ice cream parlor, Big Gay Ice Cream Shop ranks No. 5 in the world, with three locations in New York City, and No. 1 in the United States for its ice cream, according to USA Today. The famous dessert includes, gobblers (a scrambled up pie with ice cream), milkshakes, and sundaes. Undoubtedly, one of the most famous ice cream flavors is Salty Pimp. Covered in a salty, dark-chocolate shell, the vanilla ice cream tastes sweet with a tinge of saltiness from the chocolate. A new impleme
ntation, Shake Society, features milkshakes and other mouth-watering treats.
http://jamesandkarlamurray.blogspot.com/2015/06/big-gay-ice-cream-shop-west-village-ny.html
Make sure to try these delicious, mouth-watering desserts in New York City!