Review: That crepe place finally opened!
Hang on for a minute...we're trying to find some more stories you might like.
Is it just me, or is everybody's Snapchat story nowadays filled with pictures of crepes?
Whether it's a silly streaks picture with a friend, or an aesthetic close up with the flash on, images of the new crepe restaurant are popping up everywhere.
Sure the restaurant is highly anticipated, but is their food that good that it deserves this level of paparazzi? I decided I had to find out myself.
In case you've been living under a rock and somehow haven't heard yet, T-swirl crepe is a new Japanese restaurant in town that specializes in making crepes.
The opening of the establishment was highly anticipated because the restaurant had been "opening soon" for years, and most people were wondering when the business would actually open.
"The new restaurant was announced almost three years ago, and we've just been open for the past three weeks." Selena said, an employee of T-swirl.
"Our restaurant license took awhile to be approved, so we just had to have the place rented out for the entire time until we could continue to renovate."
Despite being new to the Great Neck community, T-Swirl is attracting a lot of customers, as people can't seem to get enough of the artistic and delicious dishes.
The menu offers a huge variety of flavors in order to satisfy anyone's taste, from chocolate-y, ice cream-filled crepes to lighter, veggie packed ones. With savory and sweet options, it's easy to see why there is such widespread interest in the new eatery.
The staff usually has a lot of customers to deal with in the evening, but they have been described to handle the rush calmly and easily.
So what can you expect when you walk into T-Swirl?
The restaurant itself has a cozy atmosphere inside, with warm lighting and adorable Japanese decorations.
Once you place your order, you will be given a buzzer that will let you know when it's time to pick up your dishes, kind of like the timers they have in Shake Shack.
The cashier will probably ask for your phone number, which will make you eligible for their points reward system. With each time you order, you will obtain a certain amount of points that can later be used for deals or free items, and a text will be sent to your phone to keep you updated on your total points.
The kitchen is out in the open so you can watch every second of your request being made.
They start with round stoves that cook the batter to a crisp yet fluffy texture. The batter contains eggs, milk, and rice flour, so it's naturally gluten free. The large crepe is then laid flat on the topping station, where workers carefully spread sauce and place the fillings. Employees actually individually place pieces of fruit or candy along the outside edge of the crepe, so that when everything is rolled up, the final product looks perfect.
After being rolled into a cone shape, the crepes are placed in a paper holder, then stood up in a wire rack to make it easy for the customer to eat.
You can also order tea to go with your crepe. T-swirl offers fruit teas, hot lattes, and slushies. Or if you just want a little snack, some crepes are available in mini sizes.
If you're not in the mood for a crepe at all, they also offer customizable salads that are just as good. The menu is not kosher, however, none of the dishes include shrimp or pork.
In order to acquire an accurate representation of the menu items, I decided to try out a bunch of different options.
The crepes I ended up ordering were the Strawberry Nutella, the Chocolate Nut Party, the Vegetarian Lover, and the Chicken Teriyaki. Besides just looking great, each dish was unique in its own way and equally satisfying.
The Strawberry Nutella crepe seemed pretty standard to get, as it's one of the most popular items on the menu. The tartness of the strawberries offered a pleasant contrast to the sweetness of the Nutella, so it didn't just feel like a mouthful of sugar.
The crepe was also an interesting factor, giving a little bit of crunch from the thin edges, but still having that pillow-y softness enveloping everything. Overall very balanced, and would be a great option if it's your first time eating at T-swirl.
If you're looking for something more complex and filling, then the Chocolate Nut Party crepe is perfect for you.
Probably the most filled crepe you can get in terms of toppings, this dish includes gelato ice cream, chocolate pearls, Pocky Sticks, chocolate truffles, crushed almonds and more.
The different textures worked well together, with the fresh and warm crepe right next to a scoop of freezing cold ice cream. The crushed nuts on top also offered some interesting sweet and salty contrasts. It was almost too rich, there's just so much thick chocolate flavor jammed into the crepe.
The crepe was incredibly delicious of course, but I would recommend having a friend help you take down this one.
But maybe you're working on a New Year's Resolution, and you need something a little healthier. In that case, the Vegetarian Lover might be a better option. Stuffed with edamame, avocado, corn, and other tasty vegetables, it's a super healthy alternative that still tastes great.
The dish was very crisp and refreshing, a totally different experience from the other two sweet crepes. Perhaps not as decadent as chocolate ice cream, but delicious nevertheless. Perfect for a post-workout treat, since it's filled with nutrient rich ingredients and will fill you up.
Now if you're looking for something totally different, you might be interested in giving the Chicken Teriyaki crepe a try.
Crepes with proteins are a bit underrated, since most people go for the classic sweet crepes. Containing spinach, juicy chicken breast, crunchy carrots, and more, this dish tasted like an improved salad.
The teriyaki sauce was amazing, not too sweet or salty, but adding a ton of flavor into every ingredient. Everything melded together really well, and you don't feel super full or bloated after finishing one by yourself, it's a relatively light and guilt-free meal.
My personal favorite out of everything I ordered, and definitely worth a try.
T-swirl is becoming increasingly popular among North High's students, as new customers flock to the restaurant to get a taste of the unique items. It offers great service and a different experience from any other place in Great Neck.
"They don't take a long time to make and you'll be devouring your delicious crepe in no time," junior Sarah Frankel said. "Everything's so good and well-made, I ordered the Matcha Chocolate Truffle crepe, and was surprised they were able to tone down the overpowering flavor of matcha in a tasteful way."
The new establishment can be found on Middle Neck Road, almost directly across from Gino's Pizza. Crepe prices range from just over $6 to slightly more than $10. Workers from T-swirl encourage students to visit for an after-school snack or during their lunch break.
About the Writer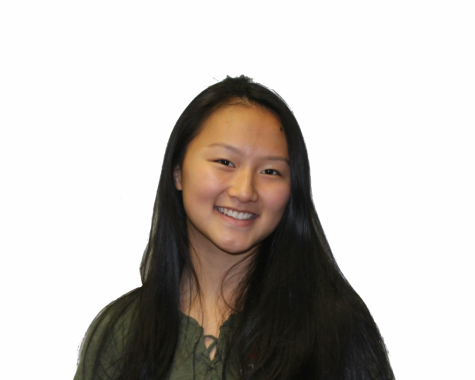 Claire Pan, Managing Editor
Claire Pan is a managing editor for Guide Post. Claire participates in a variety of sports at North High, including volleyball, basketball, and softball....