Diverse Democratic Presidential Field Indicates American Progress
This is the most diverse pool of presidential candidates in history, and it's still growing.
As of this Friday, 13 democratic candidates have announced that they will run for president in the 2020 election. This pool of candidates is one of the most diverse in history yet, and the list still has potential to grow.
The 13 candidates are as follows:
Senator Cory Booker, a black man and former Newark mayor known for being down-to-earth by helping out residents shovel snow after serious winter storms.

Former Secretary of Housing and Urban Development Julian Castro, a Latino man from Texas and former San Antonio mayor known for focusing on education.

Former Maryland Representative John Delaney, once the youngest CEOs on the New York Stock exchange

Representative Tulsi Gabbard, a woman who is the first American Samoan and Hindu member of congress. She represents Hawaii, She was an Iraq War veteran.

Senator Kamala Harris, a woman from California whose parents are Jamaican and Indian immigrants. Known for wanting Medicare for everyone and to legalize marijuana.

Senator Amy Klobuchar, a woman whose focus is on the working class people of the midwest.

Senator Bernie Sanders, a man from Vermont who wants to adopt medicare for all and to make college education free.

Senator Elizabeth Warren, a woman from Massachusetts who was an assistant to Obama, special advisor for the treasury secretary, and a part of an emergency panel for Troubled Assets Relief Program. She wants to help the middle class and empower women.

Governor Jay Inslee, who held elective office for the last three decades and has been the Washington state governor since 2013. He Tried to sue Donald Trump for the infamous muslim-country immigration ban. He is also a proponent of climate change.

South bend Mayor Pete Buttigieg, the first publicly gay man to run. He comes from Indiana and was a naval officer in Afghanistan.

Senator Kirsten Gillibrand, a woman from New York who wants to bring better healthcare, public schools, and job training for the middle class.

Marianne Williamson, a female spiritual book writer who wants to connect with people.

Andrew Yang, a successful businessman who wants to give american citizens a universal monthly paycheck of $1,000 to keep people above the poverty line as more jobs are replaced by robots.
In previous primaries, only a maximum of three major democratic candidates were female, not white, or identified with the LGBTQ community. The most diverse presidential candidate pool so far was in 2016, with 5 candidates from the Republican party, fitting the above groups.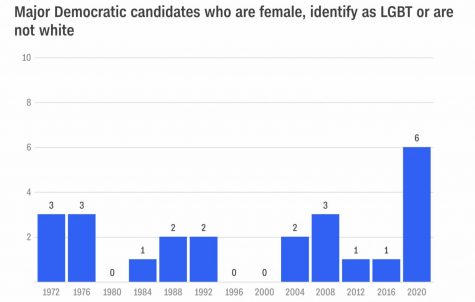 This year there are six candidates who are women, five who are persons of color, and one who is publicly gay.
This is a refreshing new change as major politicians are usually, older, straight, white men.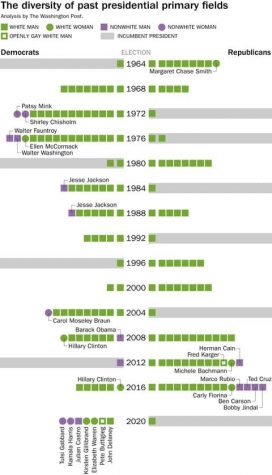 The new diversity of these candidates is most likely because the party is starting to actually reflect its voters, who are becoming increasingly diverse. In the midterm elections, 58% of democratic voters were women, 10% were not white, and 10% identified as a part of the LGBTQ community.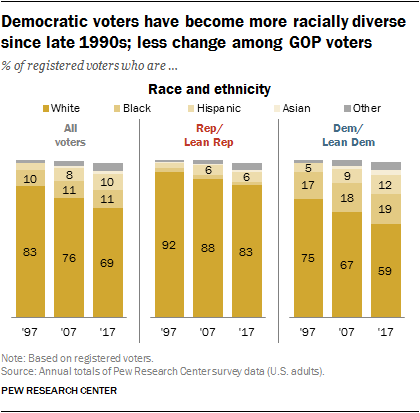 This may be a reaction to the current political climate, as many more Americans are participating in politics and paying more attention regardless of age, gender, and color.
While there is still a chance the Democratic party will nominate a straight white man, the fact that there is such a diverse pool of candidates reveals how much progress has been made in America. 
In the past it seemed impossible that America would have a non-white male president, yet it was only twelve years ago America got its first black president, Barack Obama.
Now as people are starting movements to gain recognition and empowerment, it finally seems possible that our future presidents will more clearly reflect America.