Anything Goes: A Recap of North High's Theatre Production
Hang on for a minute...we're trying to find some more stories you might like.
The bright lights dimmed and the excited chatter of the audience faded away as the band began to play the jolly opening number of Anything Goes. Great Neck North High's young actors and actresses came on stage, stealing away the spotlight from the vibrant backdrops and props that adorned the beautifully painted set. The diverse mix of sailor's uniforms, chinchilla fur coats, sparkling purple ball gowns and dark green satin dresses caught the audience's eyes as their wearers danced and sang on stage.  
To say that the school's production of Anything Goes was entertaining would be an understatement. The heart-wrenching romance onboard the S.S. American was chock-full of humor, incredible voices and extraordinary acting.
The first musical number, "You're the Top,"  was followed by "It's Delovely," a duet between two of the leads: Billy (Owen Roubeni) and Hope (Ashley Schlusselberg). The actors' voices blended together, enamoring the audience with their onstage romance. Daisy Korman, playing the role of Reno, amazed the audience with her powerful high notes and impressive vocals in her first solo, "I Get a Kick Out of You." 
Fueling the audience's enthusiasm, the musical numbers were accompanied by hilarious young comedians. From the incredibly realistic "Brooklyn gangster" accents of "crooks" Moonface Martin (Jack Brenner) and Bonnie (Naomi Hazan), to the misinterpretation of American phrases such as "hot pants" by the Englishman, Sir Evelyn Oakleigh (Alex Mousazadeh), comedy brought chuckles and laughter into North High's auditorium. Funny scenes and lines— including Billy's referring to Hope's mother as "the Lady with bad fashion sense," the mispronunciation of "perfect" as "poi-fect," by Moonface Martin, as well as his heartfelt words of advice: "It's always darkest just before they turn the lights on"— peppered the script at every turn. 
Another one of the arguably most humorous scenes was was performed by the pit orchestra. As the characters on stage called for people to confess to their sins, Mr. Rutkowski explained that many of his own band members had their own sins to confess. 
"I once ate a whole box of Cheez-Its before I played my instrument!" exclaimed Isabel Hidasi, flutist. 
"I once went a whole day without practicing my violin!" confessed Behnam Greenblat, violinist. 
Mr. Rutkowski and the rest of the band's staged gasps and expressions of horror resulted in uproarious cackles of laughter from an ever-so entertained audience.
Sophomore Sahar Tartak, who played the role of Mrs. Harcourt in Anything Goes was thrilled with the performance. "The cast was super talented, as always, and we got a lot of new talent from the middle school this year. It was fun, well prepared, and challenging."
A night filled with music, dancing, humor and romance, Great Neck North High's production of Anything Goes provided a sensational escape into the thrilling world of musical theatre.
About the Writer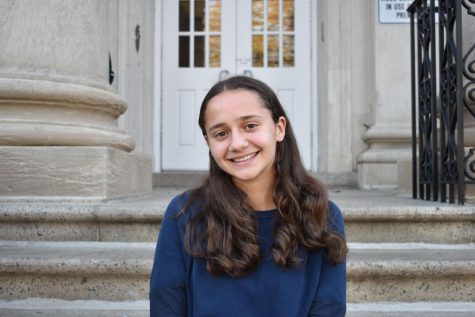 Natasha Khazzam, Associate Editor
Natasha Khazzam is one of Guide Post's associate editors. She enjoys art, foreign languages, and
writing, and is an active member of French Club and...