The Vaping Epidemic
Vaping is proving to be detrimental to teens' healths, as studies of vaping related illnesses are surfacing and the government fails to pass legislation to protect them.
Vaping is now the newest and biggest health threat to teenagers. This technology, supposedly created to help adult smokers quit smoking, is now creating addiction problems for the new generation. 
With extensive ad campaigns and coverage in schools, smoking rates of traditional cigarettes have reached their lowest level yet. However, vaping levels have spiked in recent years, especially among the youth. 
Many call this an epidemic. As of Dec 5, there have been 2,291 cases of vaping illnesses and 48 deaths, the majority of those affected being teens and young adults. 

In America, vaping products are unregulated by the FDA. Vaping companies, such as JUUL, are given free rein over what they make their vaping liquids with. As companies compete with each other for sales, they continually raise the levels of nicotine in their liquids and diversify the number of flavors they sell. 
Vaping liquids usually contain a tirade of chemicals. Many of the long term side effects of vaping are unknown since they vary so greatly in composition. Counterfeit vaping products plague the market as well, adding to the problem since their contents are a mystery.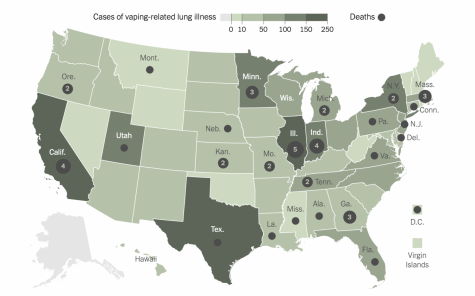 "When discussing vaping in class, I've always said, 'I'm not a doctor, but I know a chemical entering your lungs can't be good for your long term health,'" said Mr. Leonard, a health teacher in North High.
There is relatively little research that has been done on vaping. New reports seem to be coming out daily as the CDC and other organizations scramble to find clarification on what exactly is causing vaping related illnesses and what actually is happening to those who become sick through vaping. 
"While new studies on vaping related illnesses are very eye-opening to regular vapers on the actual health problems it causes, there is still so much that is unknown," said Nina Phillips, a junior peer leader of freshmen at North High. "Vapers should consider not only the released studies but also the fact that long-term damage probably won't come to the surface until a couple of decades from now and proceed with caution."
The CDC suspects that Vitamin E acetate is the main culprit of vaping illnesses but there are still many cases of vaping illnesses that the CDC has not been able to fully explain.  
In order to tackle the problem, federal, state, and local governments have been trying to work on certain restrictions for vaping with a seemingly low success rate.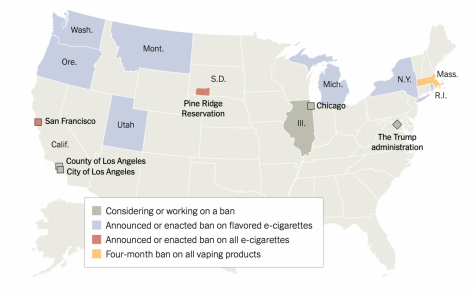 On Sept 17, a New York State ban on flavored vaping products was stalled due to an ongoing lawsuit with vaping companies.
On Nov 4, Trump decided to put aside his ban on flavored vaping products with the economy and his supporters in mind. 
"I do think it was a mistake for Trump to pull back from the vaping ban," said Mr. Leonard. "This was an opportunity to put the people's health first and to make a strong statement against the vaping industry. Pulling back from this ban can prolong the effects of vaping." 
Only a few places in America have any bans in place to protect the new generations, one being New York City. 
"I think health classes and the government are trying their best to inform students of the harmful effects of vaping but it's still not reaching the whole population of students that need to hear it," said Arabella Notar-Francesco, a junior who is a peer leader at North High. 
Vaping continues to be a difficult health problem to solve as teens struggle with pressures from peers and vaping companies. 
About the Writer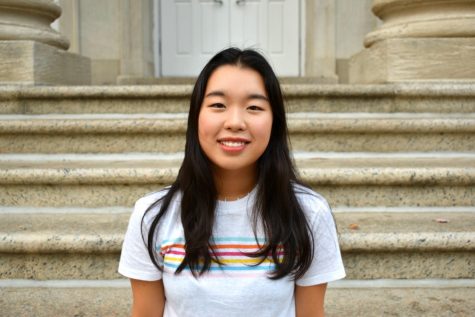 Chloe Chu, Managing Editor
Chloe Chu is one of Guide Post's managing editors. She likes playing tennis and listening to BTS. Chloe enjoys reading, editing photos, and drawing....