DMV Backup in the Midst of the Pandemic
Teens grow impatient waiting months after their birthdays to book a DMV appointment.
Each year a new set of teenagers look forward to proving they are of age and capable to get a permit or license at the Department of Motor Vehicles. However, for several months throughout the peak of the pandemic, the DMV was fully closed. Just this July, the DMV has opened its doors, creating a huge backup. 
Lines have drastically grown since the pandemic closed down the nation. Unlike anything ever seen before, people have to wait in a line with their tickets to get inside. Those who have not started their paperwork online make the line even longer. To avoid back up, many are forced to book their appointments months in advance.
"I had to book a spot from September and got lucky with a spot in December, but it is an inconvenience at 7 A.M," junior Rachel Livian said. "I have no choice because all the other dates were in February." 
Instead of the packed interior where many would crowd in the waiting room, people are now greeted with an empty, quiet area with seats situated six feet apart. The DMVs are lined with tape, making it feel similar to entering an amusement park because every line has different colors for their varying purposes. For example, pink is for the Kiosk machines, blue is for licenses, yellow is for registrations, and red is for appointments. Many individuals are also forced to travel far from their usual DMVs if those near them may be booked for months.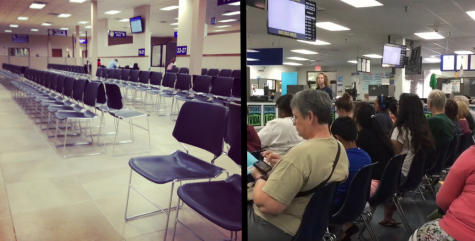 "The process of getting my permit was something I was looking forward to doing when I turn sixteen, but since the DMV is fully booked until January 2021 it seems like this won't be happening for a while," junior Alexa Nissim said. "I constantly have to check the website to see if any spots opened up, which has turned into an annoying chore I have to do."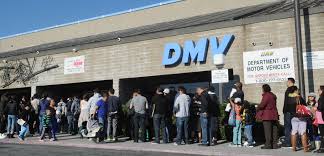 Yet, even if people have the chance to book an appointment to get inside, it does not guarantee them a spot. This is because the DMV enforces a limit on capacity to keep people from getting infected with COVID-19 or spreading it. In other words, many appointments have gotten canceled altogether just within the past few months since the DMV has reopened.
In addition to having people make reservations to adhere to COVID-19 guidelines, the department has also allowed select individuals who receive an email to take the exam online to regulate the people coming inside. "COVID was the impetus for us to speed up that process," DMV spokeswoman Anita Gore said. "We're doing everything we can to push people out of the field offices, to keep everybody safe."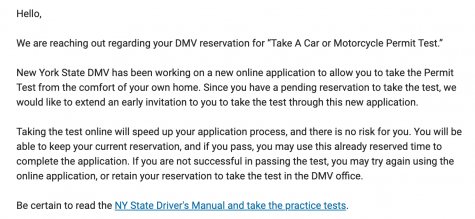 Some have expressed that these new changes have been beneficial. 
"My birthday was in May so the DMV was closed and having to take the test in August was bothersome," junior Ashley Cohen said. "When I finally got an appointment, it soon got canceled due to a limit. I got the option to book an online test which was great because I did not have to sit in a public area and worry about COVID. I felt more comfortable and safe at home because the anxiety was lifted off my shoulders." 
For many students in North High, their priorities are getting an appointment to receive a permit and next booking Drivers Education. For now, there is nothing one can do, but keep checking back on the website for an opening.
About the Writer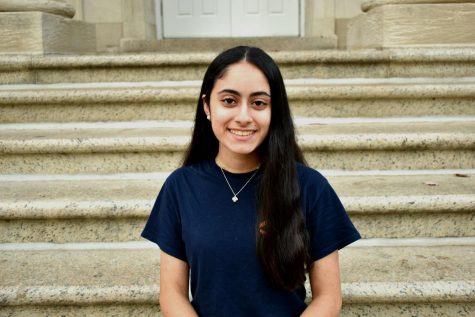 Shayla Bakhshi, Managing Editor
Shayla Bakhshi is one of Guide Post's managing editors. She also cheers on the GNN team, and leads the JV team as captain. In addition, Shayla is an...