North Track & Field Races to Success at the County Championships
North's winter track & field team had a total of six all-county athletes this past season.
After a long season of indoor track, athletes who qualify for the County Championship Meet push their limits one last time to obtain all-county honors. The top three performers in each event are dubbed "all-county."
North's winter track & field team had a total of six all-county athletes this past season: seniors Adam Namdar and Natasha Khazzam, juniors Jared Kimiabakhsh and Julie Sun, and freshmen Janeidy Da Silva and Maya Ohebshalom — all of whom placed top three in their respective events at the County Championship Meet on Feb. 9.
Adam Namdar, who began his track & field career relatively recently, jumped a whopping 76 inches in the high jump to win first place. Namdar is confident in his abilities and ready for more formidable competitors. "I'm hoping to do the same [win first place] in the state championship. I jumped 6'4", but I know I can jump higher."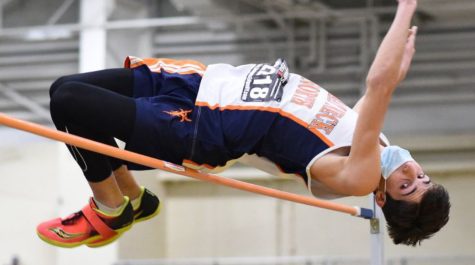 Natasha Khazzam placed second in the 1000-meter run, and claimed the all-county title for a second time after anchoring the 4×800-meter relay team to a second-place finish. "Track seems like a very individualistic sport, but in reality, it's so important to be surrounded by teammates and coaches who constantly motivate you to run faster and farther," she said. "I was really happy to have won the title individually, but I definitely felt that it was much more rewarding to have earned it as a team."
Jared Kimiabakhsh, who won second place in the 3200-meter race, reflected on his performance at the meet. "[Earning all-county honors] has been a long-time goal of mine, and when this school year started it became a legitimate possibility. During cross-country, I wasn't able to do it in the end, so I just put my head to the stone and worked really hard to get it this season, and it paid off," Kimiabakhsh explained. He also credits his coach for offering him excellent advice and pushing him to be his best. "Me going all-county was majorly thanks to Coach Adam McKenzie, the literal best track and cross-country coach in Nassau County."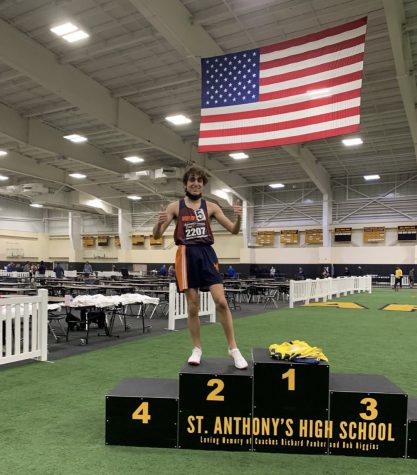 Julie Sun ran a single event at the County Meet: the 4×800-meter relay. Sun ran the third leg of the relay, and helped the team finish second, behind Garden City. For Sun, getting the all-county title through a relay event was particularly meaningful. "It is a product of the hard work of all my teammates, and to have all of us improve as much as we did means so much to me," she said.
Not knowing where she would stand as a high school athlete as she entered her freshman year, Janeidy Da Silva placed third in the 600-meter race through pure hard work. "As we advanced through the season I knew that it was becoming more of a possibility for me to achieve the all-county award. So I did my best to train harder and learn from the upperclassmen," Da Silva said. "[Going all-county] made me more hopeful for my future running career, and now the next goal I've set for myself is to make it to States," she added. Da Silva was also a part of the 4×800-meter relay, securing two all-county titles in one night.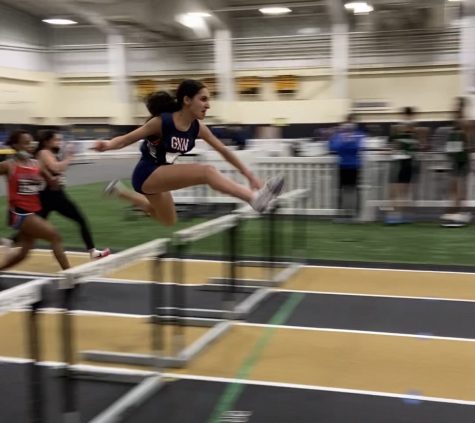 For Maya Ohebshalom, becoming an all-county runner was a major goal this season. Although she obtained the all-county title this past fall during cross-country, Ohebshalom didn't stop just yet. "I began running in 7th grade, and since then have participated in every cross-country, winter track, and spring track season," she said. "Attending practices almost every single day of the week and running outside of practice have contributed to my improvement. I hope to continue to strive and improve as the years go on." Ohebshalom, who placed 3rd in the 55-meter hurdles and was also a part of the all-county relay team, credits Coach Bonvicino and her teammates for their constant friendship and support.
With the leadership of talented upperclassmen like Namdar, Khazzam, and Kimiabakhsh, the incoming spring track season appears extremely favorable. Coupled with the early successes of underclassmen like Da Silva and Ohebshalom, it's safe to say that the future of Great Neck North track & field is in good hands.
Leave a Comment
About the Contributor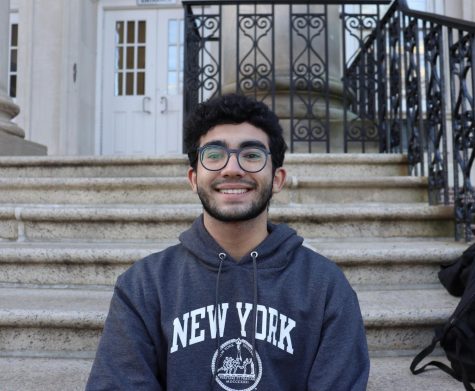 Dylan Kohanim, Senior Media Manager
Dylan is one of Guide Post's media managers. He is currently the captain of the Varsity Tennis team and Varsity Volleyball team. He is also the Founder/President...