A Unique Experience at The UN: Bringing Forward The Legacy of Anne Frank
Anne Frank's diary holds many lessons that can be applied to refugees in modern times
On November 8, 100 students from high schools all over New York and traveled to the headquarters of the UN. There they were presented with a very special opportunity: to discuss the legacy of Anne Frank and its relevance to defending the rights of refugees today. 
With opening remarks from Melissa Flemming, the Under-Secretary-General for Global Communications, and His Excellence Karel J.G van Oosterom, the Permanent Representative of the Kingdom of the Netherlands, the point of the conference was very clear. Sharing their own experiences with refugees and the Diary of Anne Frank, they expressed hope for students to build a better world.
Students then watched a short film called the Short Life of Anne Frank, which provided background on Anne Frank herself and how her diary became published.
Tracey Petersen, the Manager of the United Nations Holocaust Education Outreach programme, led a student based discussion on important excerpts from Anne Frank's diary. "Use her diary as a guide for life," Ms. Peterson said, quoting a Holocaust survivor she previously worked with. The excerpts revealed that Anne Frank had many deep and stimulating realizations, many of which can be applied to life in modern times. 
Nine students from various schools were also given the opportunity to present the stories and their own thoughts on other young victims of discrimination and conflict. "After spending time researching one victim of the Holocaust, Petr Ginz, I was inspired by how much potential he had in his writings and artistic abilities," said junior Avery Park. "Sadly he did not survive, but the power of his writings, alongside many others like Anne Frank, allow us to remember the motto 'never again.'  This motto allows us to both remember such a horrific event and to collaborate for a better future." 
Finally, Steven Feinberg, the Senior Program Director of Facing History and Ourselves, rounded off the provoking program with another student discussion based on a speech given by Samantha Power, the 2016 US Ambassador. In her speech she talked of an interaction she had with a young Syrian refugee, who after all the trauma he experienced, simply longed to go back to school. Students were asked how they would respond to someone who believed that refugees were "different and dangerous."
"At this amazing United Nations conference, I learned about the struggles of refugees have to deal with on a daily basis and how its our role to help make a difference in their lives," said sophomore Adelia DeRose. This program truly celebrated the legacy of Anne Frank by bringing forward lessons from her experience to help humanize refugees today and encouraging students to be accepting of others. 
"It is my hope that the conference at the United Nations helped raise awareness for the participants that it is possible to be an up-stander in a variety of ways when faced with a situation in which someone is persecuted or even bullied," said Mrs.Gallagher, a social studies teacher and chaperone on the trip, "It takes courage and guts, but it is important to help those in need in some capacity if we can."
About the Writer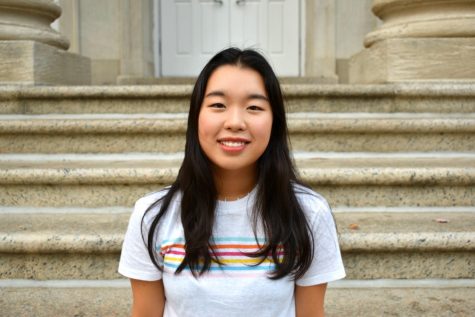 Chloe Chu, Managing Editor
Chloe Chu is one of Guide Post's managing editors. She likes playing tennis and listening to BTS. Chloe enjoys reading, editing photos, and drawing....