Melania Trump: First Lady and Style Icon
Turmoil and tension have surrounded Donald Trump and politics this past year. From impeachment inquiries to Russia controversies, President Trump has been in the middle of a lot of drama while having to simultaneously run the nation. However, throughout all of this, Melania Trump has continued to defend her image as one of the most stylish first ladies.
With 2019 soon coming to an end, let's take a look at some of Melania Trump's best fashion moments. 
Even while hoping to be cozy, Melania is still able to take a simple look and embrace it. As the FLOTUS was making her way through the Andrews Air Force base, she stunned in this long black turtleneck poncho sweater dress. The bottom of the dress met her chic suede black high boots, while her all-black look was complemented by black shades and a black Hermès Birkin. 
Generally, Christmas colors may not be the most flattering, but they sure were on Melania. A few weeks ago Melania attended the annual White House Christmas tree lighting in style. The star of the show was Melania's colorful jacket, underneath which was a simple black ensemble with stiletto Christian Louboutin black boots. The Dolce Gabbana jacket featured fitting red, white and green beautifully designed florals. 
The G7 summit this summer was a fashion peak for Melania. The summit, hosted by France, was one in which Melania's fashion game did not fall short. While enjoying a day of sightseeing alongside France's First Lady, Melania stunned in this white Calvin Klein sundress was complemented by a flattering white belt at the waist, white flats and a white Hermès Kelly. The all-white look was contrasted by her simple black glasses. 
For Melania Trump, another day at the G7 summit meant another day of success in the fashion game. On the first day of the summit, the FLOTUS stunned once again in this light pink pleated Gucci dress. The dress was complemented by a metallic chain belt that matched the FLOTUS' Louboutin silver metallic stiletto heels. 
At this year's Fourth of July celebrations, Melania was looking like another firework in the sky. The FLOTUS wore a beautiful off the shoulder dress that featured a flattering bow at the shoulder. The white Carolina Herrera Dress displayed rainbow stripes, complemented by her fuschia Louboutin heels. 
Through all the controversies her husband has dealt with, one thing stands out in this political climate of unrest. Undoubtedly, Melania Trump's style will continue to stun as one of the world's most fashionable public figures moving into the new year.
About the Writer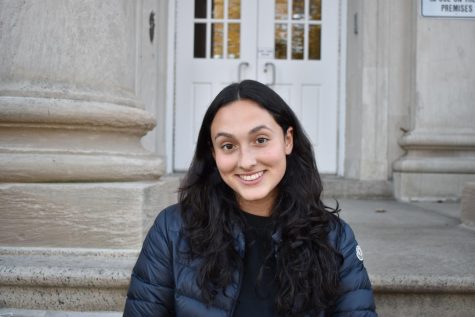 Alyssa Ghassabian, Managing Editor
Alyssa Ghassabian is one of Guide Post's managing editors. She is passionate about tennis, and is the captain of the Girls Varsity Tennis team. She is...