COVID-19 Standardized Testing Changes Cause Anxiety Among Juniors
What does the pandemic's impact on SAT, ACT and AP testing mean for juniors?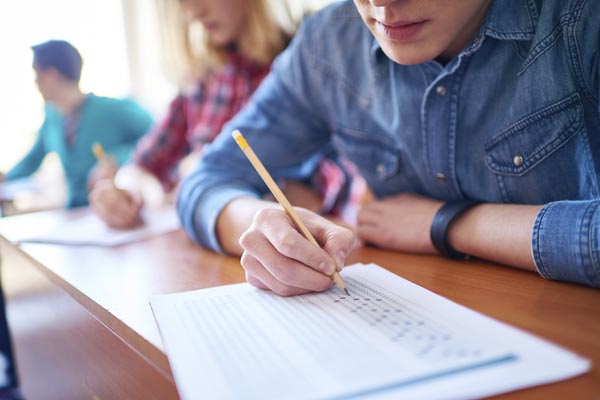 As COVID-19 spreads across the country wreaking havoc on the everyday lives of all Americans, students are left at home wondering what will happen in terms of their education. The class of 2021 especially has been impacted significantly by the pandemic, as junior year is said to be the most important for college admissions. 
Junior year is the year when many students take on challenging AP classes as well as the SAT and ACT exams, which are usually required for college admissions.  Regarding federally required tests, President Trump, alongside the Department of Education, announced that schools are no longer required to administer those exams. Trump and the Department of Education are still working with local and state officials to make additional changes to accommodate the current circumstances.
"Neither students nor teachers need to be focused on high-stakes tests during this difficult time," said Betsy DeVos, Secretary of Education. "Students need to be focused on staying healthy and continuing to learn. Teachers need to be able to focus on remote learning and other techniques." 
But what exactly does this mean for juniors at North High?
The College Board and universities across the country are scrambling to change their rules and requirements to better fit the circumstances of the pandemic, leaving teachers and students in a state of confusion. As of now, both the March and May SAT exams have been canceled with no replacement dates announced. The June SAT has not been canceled yet, and the ACT has rescheduled the April exam to a date in June.
Many juniors had planned to take the SAT and ACT for the first time this spring, with the hopes of also retaking tests to improve their scores before applying to college later on in the year.
In a survey administered to Great Neck North juniors, 88.5 percent of respondents indicated that they had planned on taking an SAT, ACT, or SAT II exam that had been cancelled or postponed. Of the respondents impacted by test cancellations, 82.6 percent felt stressed out by the test cancellations and 73.9 percent expressed that the test cancellations would hurt their chances of getting into college.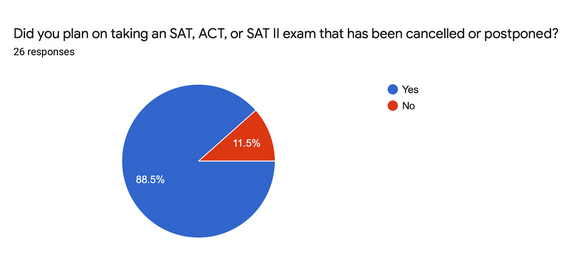 "I was just really, really upset when they cancelled it since I spent so much time studying, and I spent a lot of money to take the test," said Ilana Cooke, a junior who was planning to take her first SAT this March. "Now you're going to tell me it's worthless because I can't even take it, and I'm going to have to sign up for one in June? And that might not even happen, so how am I supposed to get into college? It's just so frustrating, and now I have to worry about taking it in senior year."

Additionally, this year's AP curriculum and exams will be shortened. The College Board will focus the new exams on chapters most schools should have reached by March. The new exams will now include only 45 minutes of free-response questions, instead of the usual three-hour test with a mixture of multiple-choice and free-response questions. Students will also be able to take exams on any device they have access to and can use notes to help. Even internet usage is allowed, but not recommended by the College Board
"The new AP kind of worries me because they're trying to test us on one year's worth of content in 45 minutes," said Hani Kang, a junior taking three AP classes. "I'm afraid I'm going to freak out and not do well. We learned all year how to answer questions in a specific way, and now it's all different."
Many juniors have had similar concerns, expressing fears of cheating and frustration with the shortened tests not accurately reflecting the time and effort students put into AP classes.
Changes to standardized testing, along with the uncertainty regarding how remote learning will affect student transcripts, are causing a lot of anxiety for juniors. Standardized testing and grades are exceedingly important for college admissions. Some schools have stated that they will likely concentrate on the fall of junior year, assuming that this would reflect the student's success for the rest of the academic year. This change may place some students in an unfair position, but at the moment, this option appears to offer some form of a solution to COVID-19's disruption.
At the same time, some colleges are trying to change their admissions requirements for the class of 2021. One prominent example is the University of California System, which is eliminating its requirement for SAT and ACT scores and accepting pass or fail grades for the spring semester. They will still accept scores, which may help certain students, but the UC schools will ensure that no student will be harmed for not having scores to send.
With these massive adjustments, juniors at North High will have to face the repercussions of the new normal soon. In these uncertain times, one thing remains the same: juniors will have to deal with quite a chaotic year.