North's Track and Field Team Competes at County Championship Meet
On May 25, North High's track team gave it their all and many athletes achieved personal records at the County Championship, which took place at Roosevelt High School. Athletes including Natasha Khazzam, Jared Kimiabakhsh, Jules Ahdoot, Maya Ohebshalom, Eden Reznik, and many others performed amazingly in their respective races. 
However, this definitely did not happen without the team's hard work and dedication. The athletes on the team practiced daily, ran workouts in the pouring rain and the blistering sun, and did additional muscle-targeted workouts to present themselves in the best way possible when it mattered most, at Counties. 
Coaches Bonvo and Corrao also contributed to the success at the meet, as they always encouraged and motivated these young-athletes to work hard and to feel confident.
The following student-athletes competed at the country championships: Colin Asher, Jared Kimiabakhsh, Noah Berkowitz, Randy Toledo, David Ludwig, Adam Namdar, Maya Ohebshalom, Catherine Chang, Natasha Khazzam, Eden Reznik, Julie Sun, Jules Ahdoot, Tal Gavriel, Amanda Lavian, Lily Adzhiashvili, Janeidy Da Silva, Zoe Simchayof,  Danielle Glucklich, along with people who competed in the relays.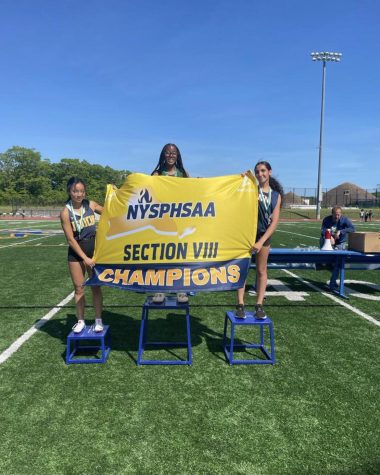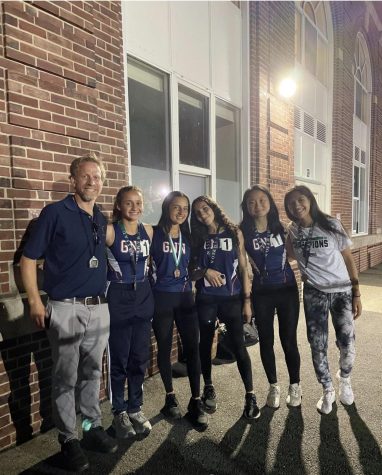 Junior Jules Ahdoot ran the 3,000 meters, which is seven and a half laps around the track, and placed third in the championship meet, earning the "All County" title.
"I was very motivated and determined to become all-county this year and the support from my team and coaches helped me achieve my goal," Ahdoot said.
At the meet, freshman Janiedy Da Silva raced in the 4 by 800 meter relay race with Maya Ohebshalom, Julie Sun, and Natasha Khazzam. Their relay team won first place against the other 4 by 800 relay teams in the county class. 
Da Silva reflected on her experience and motivation for running the race.
"Running the 800 is a difficult event, but I was up for the challenge knowing how the win would mean a lot to the team" Da Silva said. "Winning the 4 by 800 was such a thrilling experience, and I'm so proud of my teammates for giving it their all. The most rewarding part of winning these races is not the medal; it is the joy and smiles of our team members and coaches."
In addition to running events, North's track team competed in field events including discus throwing, high jump, long jump, pole vault, shot put, and triple jump. 
Senior Niki Talledo competed at the county meet and represented North in the discus event. 
"I was able to stay motivated knowing that it was most likely my last meet and last county meet where I would be a North Blazer, so I just wanted to throw the best I could," Talledo expressed. "Even though the outcome wasn't what I was hoping for, I still went out knowing I tried hard and that there are moments when we will do great and moments where we don't do so great. With those moments when we don't do so great, it doesn't define me as an athlete which is something I am still learning myself.". 
Freshman Lily Adzhiashvili competed in the 1500 meter race and achieved a personal best. She also cheered on her friends and elder teammates as they ran in their own races. 
"As a freshman, it was a very inspiring experience to watch my teammates succeed and see what I could potentially accomplish in the years to come too," Adzhiashvili stated.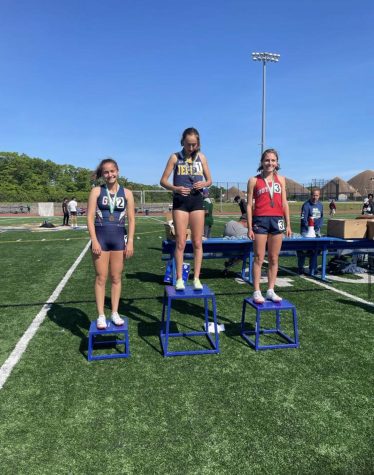 With these continued efforts the North track team is looking at a bright future ahead.
"I'm excited about our team's future and I am looking forward to winning more races," Da Silva said.
Leave a Comment
About the Contributor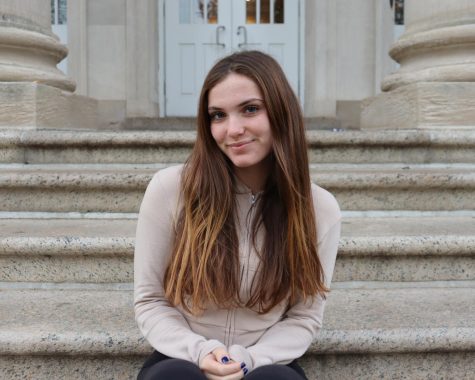 Katie Bell, Associate Editor
Katie Bell is an associate editor on Guide Post Online. She loves spending time with her friends and family and has a passion for dogs. She is apart of...