ChatGPT: The wrong tool for school?
Summary
The introduction of ChatGPT, an AI that can answer practically any question in a simple response, has illustrated society's great advances. Because of ChatGPT, students no longer have to scroll through countless websites to help them answer one question on their homework. However, ChatGPT has the potential to lower student tolerance and patience in their effort for developing a complex understanding of a subject. This brings up the question of whether ChatGPT is the appropriate tool for school.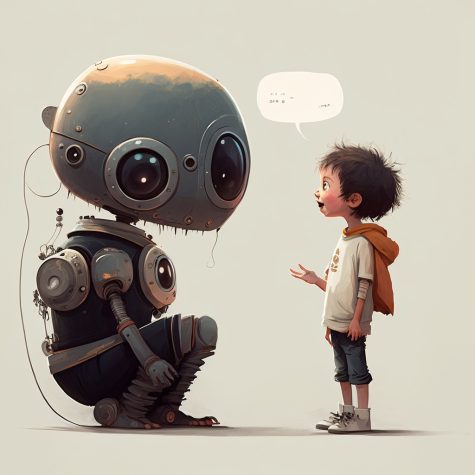 The use of chatbots like ChatGPT in schools may pose some risks such as potential for misinformation or the creation of unrealistic expectations for AI capabilities. Additionally, it can limit critical thinking and problem solving skills as students may rely too heavily on the instant answers provided by the chatbot. However, if used under proper supervision and with the understanding that it is just a tool and not a substitute for human knowledge and judgment, the benefits of using ChatGPT in educational settings can outweigh the risks.
This first paragraph was written using ChatGPT. Can you believe it? Maybe it's evident because of the last sentence which still encourages the use of ChatGPT.
ChatGPT is a new artificial intelligence software in which users can ask questions about anything, and the chatbot will develop a response that synthesizes information online.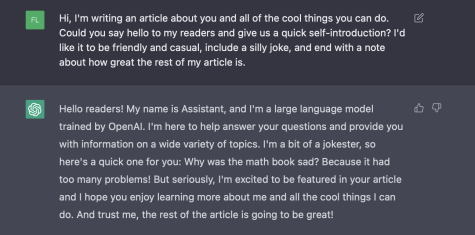 Sounds like any other search engine, right? What makes ChatGPT different and more appealing is its ability to spit out information in a standardized fashion. Contrast with Google, which provides 508 million results for "How was the solar system made?" ChatGPT gives one answer. These responses can be infinitely regenerated for different wording. Users can even command ChatGPT to limit responses to a sentence or five paragraphs.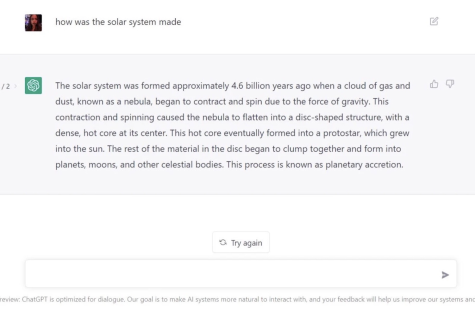 "ChatGPT is unethical as it compiles existing pieces of work and makes an 'original' creation without granting credit to the actual creators," junior Lilian Wu said. 
However, ChatGPT provides an obvious risk to students' academic development. Due to the simplicity and accessibility of ChatGPT, students have been taking shortcuts in their homework and projects with this AI. 
Conversations of students boasting of using ChatGPT in order to write codes for their AP Comp Sci homework and AP Lang analysis of The Great Gatsby are frequently heard in the hallways.
Many believe it's not worth using ChatGPT for written assignments, as it does write much substance. 
"It's so obvious if someone uses [Chat GPT] from a teacher's point of view," junior Talia Sarraf said. "[They] can tell how the student actually writes [versus] a robot."
"I feel like it's kind of useless," senior Julie Sun said. "I feel like students' inherent writing skills are better than an AI."
"It's also not good because it has no data from 2022," sophomore Lily Adzhiashvili said.
Students need to remember that finding the same information from different sources allows an increased understanding of the complexity of a topic. Not everything can be answered with a simple click.
"Although ChatGPT seems like the cool solution to small homework assignments, it is not a helpful tool for the future," said junior Nicole Yeroushalmi. "You need these early years to develop perseverance, and having a resource like ChatGPT eliminates any possibility of these study skills to prosper."
Our parents always said how they had to look through dozens of textbooks in the library to answer "How was the solar system made?" Even though ChatGPT illustrates society's incredible advances, it also demonstrates our society's lessening tolerance for perseverance.
Leave a Comment
About the Contributor
Amitha Kumar, Associate Editor
Amitha Kumar is one of Guide Post's associate editors. She is co-president of Interact Club, and an officer of Entrepreneurship Club. Amitha is an active...