Chamber Music Recital
Hang on for a minute...we're trying to find some more stories you might like.
Every Friday morning, students who stroll through the school's front doors are greeted by Jazz music, holiday music, Beatles music, 80 and 90's music, and more. The regular performers are members of the school's Chamber Music class that meets every morning at 7:20 am. These 28 students spend the year rehearsing music with their individual chamber groups and as one big group. All students attend band or orchestra class everyday as well as after school rehearsals.
On April 25, the musicians performed at the Chamber Music Recital, under the direction of music teachers Dr. Pamela Levy and Joseph Rutkowski. The evening began with a trio by Hadyn, featuring violinist Isabel Yang, cellist Neil Chou, and pianist Jeffrey Zhang. Next followed a string quartet by Beethoven, featuring Matthew Xu, Sally Saker on violin, Mark Xu on viola, and Judah Nouriyelian on cello. Afterwards, came Brahms' "Horn Trio in E Flat major" featuring Rachel You on violin, Daniel Itzkowitz on horn, and Vera Cho on piano. Then, Mozart's "Duo in G major" featuring Keva Li on violin and Megan Xu on viola. After this performance, the duet of Villa Lobos' "Chôros No. 2" featuring Madeline Yang on flute and Joshua Rothbaum on clarinet. Followed by a video game medley from "Undertale" by composer Toby "Radiation" Fox featuring Katherine Smolens on flute, Bob Qian on clarinet, and Josh Kim on bass clarinet. Then,  Cheongjun Oh on horn, Ignaz Pleyel's Duo No. 4, Op 8 featuring Nina Phillips and David Cheong on violins. Second to last, Dvorák Quintet featuring David Zeng and Adam Tsou on violin, Esther Hwang on viola, Neil Chou on cello, and Jeffrey Zhang on piano. Last was Brahms' "Sonata in f minor" performed by two conservatory trained North High music instructors Dr. Pamela Levy on piano and Joseph Rutkowski on clarinet.
The evening concluded with the members of the Chamber Music Society performing the final movement of Mendelssohn's "Octet" and Dvorák's "Serenade," featuring students Keva Li, Isabel Yang, Daniel Zeng, Adam Tsou, Sally Sarker, Rachel You, Matthew Xu, Nina Phillips and David Cheong on violin; Megan Xu, Esther Hwang and Mark Xu on viola; Neil Chou and Judah Nouriyelian on cello; Berk Soykan on bass; Vera Cho and Jeffrey Zhang on piano; Madeline Yang and Katherine Smolens on flute; Bob Qian and Joshua Rothbaum on clarinet; Joshua Kim and Frederick Sion on bass clarinet; Joshua Nouriyelian on bassoon; and Daniel Itzkowitz, Cheongjun Oh and Sean Eliassi on horn.
About the Writer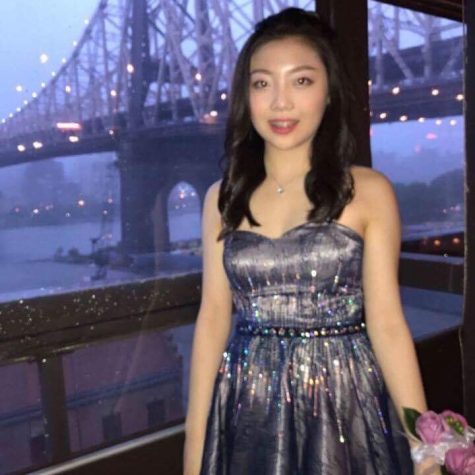 Keva Li, News Editor
Keva is Guidepost's News Editor. She is passionate about science and enjoys reading in her free time. She is also the co-president of Great Neck North's...