North Says Goodbye to Four Impactful Teachers Upon Their Retirements
Hang on for a minute...we're trying to find some more stories you might like.
This year, Great Neck North High and its students are honoring four of their teachers for their outstanding service and dedication. Gary Cohen, Meryl Mandler, Susanne Marcus, and Michelle Boone are all retiring from Great Neck Public Schools. Gary Cohen was an impactful Social Studies teacher; Meryl Mandler was an uber-friendly Special Education teacher; Susanne Marcus was an unbelievably caring ENL teacher; Michelle Boone was an extremely resourceful psychologist in the guidance department. They will all be dearly missed as they enter a new chapter in their lives. Together, the four teachers have dedicated a combined over 100 years of service to Great Neck North High. When students were asked to describe their reactions upon hearing that their teachers were retiring, many expressed great sadness towards the teachers' departure. Allíson Mira Gamez, a Junior ENL Student of Ms. Marcus, told Guide Post that "I am very sad because she is the best teacher that I have ever known. She is someone who has a lot of humility and has shown great support to the Hispanic community in particular." Susanne Marcus was instrumental to the ENL program and in the running of various extracurricular events such as the Telling Our Stories night, and the beloved International Night. As we begin to head off for the summer and even prepare for the upcoming school year, we at North say goodbye to four teachers that have had tremendous impacts on the lives of many individuals. We wish these four the best going forward.
Additionally, the four teachers were recognized individually at the Class of 2018's Graduation ceremony at the Tilles Center at LIU Post. Below are the four brief speeches that were read during the ceremony, by students of each of the teachers:
"Good afternoon. My name is Ben Adler, and it is my honor to introduce Ms. Boone, a woman who has served as a guiding voice to our community and to so many of the individuals in it. She always has an open door for the students and faculty and welcomes anyone with open arms whether to solve a problem or to gossip about daily events. Through numerous check-ins and visits to her office, I'm proud to say she has helped me, too. She has helped me navigate my four years at North High, helped me cope with the continuous daily struggles that life bestowed upon me, and ultimately, helped spur my evolution as a human being. I am fortunate to be one of the many young people whom Ms. Boone has changed for the better, and she will always be a part of me because of that. Ms. Boone, you will be missed dearly by each and every one of us, and we truly thank you for all the work you have done to make Great Neck North High a better school and a better community. It is my pleasure to welcome Ms. Boone as a member of the Class of 2018, and to call her up to receive her diploma."
"Family, friends, staff, administration, and Class of 2018, I am Kevin Li, a former student in Mr. Cohen's REALLY wild 2nd period AP US class. After a jam-packed 2nd period of learning about FDR's New Deal Policies one day, Mr. Cohen ended the lesson by telling us that 'the sun never sets in Cohen Nation.' I began to picture sitting on a boardwalk by the ocean as an orangey yellow sunset extended its warm hand to tantalize my skin. In actuality, however, Mr. Cohen was trying to tell us that learning never ceases and that there was homework that night. Because I have experienced, first hand, your sincere devotion to your students, I realize that the quotation offers much insight into the man that you are, Mr. Cohen. You teach with vitality, connect through your quirky sense of humor, and push your students to their fullest potential. You provide us with an entire web of support, coaching and guiding us to find ultimate success. What we've all learned from you, more than anything, is that our graduation from North High is not our sunset, but is merely the start of something new and bold. We hope that your retirement offers you the same. For making our school more vigorous and emboldened, we are forever thankful. It is my great honor and sincere pleasure present Mr. Cohen with a diploma to celebrate his graduation with the Class of 2018."
"Good afternoon everyone. My name is Jillian Bergman and I have had the pleasure of working with Mrs. Mandler throughout my years in high school. Mrs. Mandler team taught in my sophomore chemistry class and with my junior year math class. Mrs. Mandler is not only a wonderful teacher, but she is also a compassionate, patient, and amazing person. Due to her empathetic nature, I was able to go to her when I needed help with any subject.  Mrs. Mandler has always gone the extra mile for her students and fellow faculty. If it's going over a lesson when the teacher is not present in the classroom or holding smaller review sessions for students who required that one on one support, she always is there to lend an extra hand with a huge smile.  When I had the pleasure of meeting her in my chemistry class, I explained to her that I have a hard time taking tests and they create a lot of anxiety for me. From then on she worked with me in most of my classes and created a comfortable environment for me so that I was able to succeed alongside my classmates. She has the wonderful ability to be able to figure out exactly what her students need, and she is tireless in helping them navigate the world of high school. She has gone out of her way to create a special bond with all of us, sharing stories about her children or some of her magnificent morsels. Mrs. Mandler, on behalf of the student body, thank you for all that you have done in the past 30 years here at Great Neck North High School. The halls of North will not be the same without you. Please come up to accept your diploma as a member of the Class of 2018."
"Good afternoon. My name is Aaryn Li and it is my pleasure to say a few words in praise of Ms. Marcus, who is retiring this year. I'm really thankful that I met Ms. Marcus when I first transferred to Great Neck North. I remember how nervous I was on my first day because I didn't know anyone, but Ms. Marcus was there for me and introduced me to everyone. She has been so supportive. She has helped other teachers to realize how the students in the ENL program want to be treated. She also helps me, and everyone else, with all of our personal issues. At last year's MOTH I worked with her on my personal story and as always, she was a good listener and helped me get through the story and so many problems. I have never met anyone as kind as she is, and so on behalf of all her students I wish her good health and happiness in her future. Ms. Marcus, please come to the stage to receive your diploma. "
About the Writer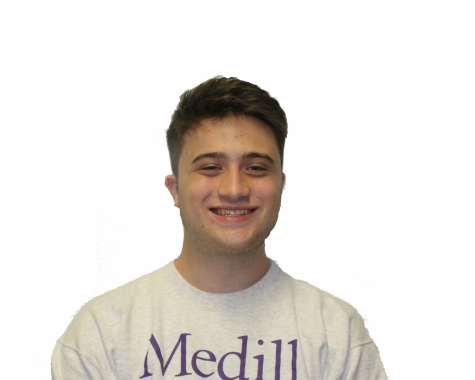 Jason Beeferman, Editor-in-Chief
Jason Beeferman is one of Guide Post's Editor-in-Chiefs. He is passionate about national and international politics and enjoys literature and film as...