PETA Poked the Bear with Critique of Steve Irwin's Legacy
Convincing people to go vegan with offensive ad campaigns remains PETA's favorite wild goose chase.
Hang on for a minute...we're trying to find some more stories you might like.
PETA's tweets on Google Doodles and anti-animal language has garnered a lot of attention for the animal rights organization. Recently, PETA's comments criticizing recognition of Steve Irwin's conservation efforts and equating anti-animal idioms with racist language have sparked internet backlash.
On February 22, a Google Doodle depicted conservationist Steve Irwin, who passed away in 2006, holding a crocodile. The Doodle celebrates Irwin's 57th birthday, with which PETA's twitter account promptly took issue.
"#SteveIrwin was killed while harassing a ray; he dangled his baby while feeding a crocodile & wrestled wild animals who were minding their own business," PETA tweeted. "Today's #GoogleDoodle sends a dangerous, fawning message. Wild animals are entitled to be left alone in their natural habitats."
PETA followed that tweet up, claiming Irwin harassed animals throughout his career and did not uphold his message of animal conservation. Tens of thousands of people responded to the tweet, accusing PETA of hypocrisy and taunting the organization.
In regards to Irwin's death, all copies of footage of Irwin's fatal accident with a sting-ray were destroyed following its viewing by his family, according to Terri Irwin, Steve Irwin's wife.
PETA is no stranger to controversy, especially regarding its twitters campaign against animal cruelty. A similar incident occurred in December of last year when the organization condemned anti-animal language with an image of animal-friendly substitutes.
"Words matter, and as our understanding of social justice evolves, our language evolves along with it," PETA wrote. "Here's how to remove speciesism from your daily conversations."

Previous controversies surrounding the organization's efforts at generating buzz have received attention over the years. PETA ad campaigns, frequently equating forms of violence against humans to violence against animals, have featured images such as an impotent Santa and a severed human leg in the mouth of a shark.
Whether an organization dedicated to protecting animal rights should engage in such controversial tactics is up for debate. Regardless, it appears that PETA does not plan to stop lighting internet firestorms to succeed in its conservation goals.
"Unlike our opposition—which is mostly composed of wealthy industries and corporations—PETA must rely largely on free 'advertising' through media coverage," wrote the organization on its website. "We will do extraordinary things to get the word out about animal cruelty because we have learned from experience that the media, sadly, do not consider the terrible facts about animal suffering alone interesting enough to cover."
About the Writer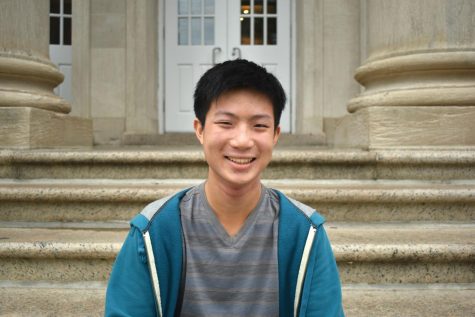 Raymond Lin, Editor-in-Chief
Raymond Lin is Editor-in-Chief for GuidePost. He enjoys writing about science research and school policies that interest students at GNNHS. He is a member...