The New Nadal? Meet Carlos Alcaraz Garfia.
He's fast, he's athletic, and best of all, he's young. Now considered to become a serious threat to Nadal, Federer, and Djokovic in the coming years, Spanish tennis star Carlos Alcaraz Garfia makes his mark on the tennis community as a blazing hot rising star with talent never seen before. 
Alcaraz first entered the tennis scene in 2018, when he was officially declared 'pro' on the ATP Tour. However, his fame rose to this current echelon recently, when he faced Rafael Nadal in the semi-finals of the Indian Wells Masters 1000 tournament, only losing by 3 games.
It was here that tennis fans around the globe got a solid preview of the talent Alcaraz had within. Full of admiration for the youngster, Nadal said, "I think he will be unstoppable in terms of his career. He has all the ingredients… He reminds me a lot of myself when I was 17 or 18 years old… I was playing well at the beginning but it was just so difficult to stop him with his amazing shots … After that, I can't say I was in control because it is impossible to be under control against a player like him". 
The young Alcaraz did not let his defeat from Nadal get to him. With admiration from the global tennis community and an impressive finish to the previous tournament, Carlos Alcaraz took the Miami Open by storm.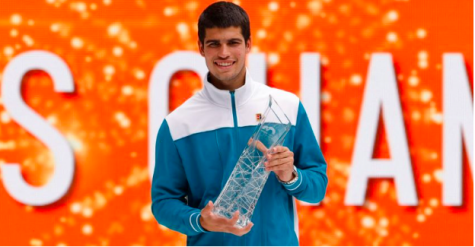 While only dropping one set during the entirety of the tournament, he went on to defeat Norwegian star Casper Ruud in the finals to win his first-ever Masters 1000 tournament. Emotions ran high for not only Alcaraz but his family and coaching team. Juan Carlos Ferrero, former World No.1 and the coach of Alcaraz, did not attend any previous matches during this year's Miami Open due to the death of his father. He made a surprise appearance during the finals to cheer Alcaraz on. After Alcaraz won, he dedicated his special victory to his coach who was going through very hard times. Not only has Alacarz won the heart of the tennis world, but he has now cemented his status as the game's next big thing.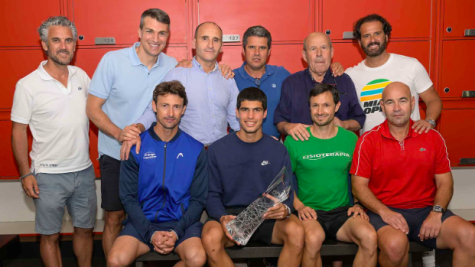 Tennis fans here at Great Neck North High have various opinions on the 19-year-old Spaniard. "He's just electric to watch. It's fun to see the next generation of [ATP] stars taking over," said Sophomore James Hakimi. Some tennis fans even see him reaching the levels of the "big three". "He's an amazing player. I think he has potential to become one of the greats. In fact, give it 2 years' time, he'll be a serious threat to Federer, Djokovic, and Nadal."Excited to see what he'll bring to the game during these next couple of tournaments," asserted Senior Leo Karpel.
On the other hand, some don't see him becoming one of the tennis greats. "I think Alatraz is a very skilled player, but I don't see him reaching the levels of Nadal, Federer, or Djokovic at any point in his career," said Sophomore Brandon Nabavian.
Whether you like the guy or not, it's undeniable that he's the "new guy in town" with a bright future ahead of him.
Leave a Comment
About the Contributor
Jacob Shirazi, Managing Editor
Jacob is one of Guide Post's managing editors. He enjoys politics, finance, and journalism. He is an avid debater and likes to learn from opposing opinions....